Posted by
Ben Golliver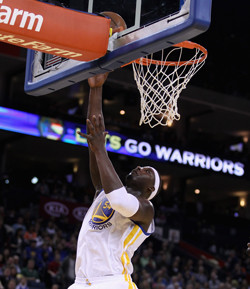 The Golden State
Warriors
can't catch a break.
After losing starting point guard
Stephen Curry
to an
ankle injury
, again, the Warriors
announced on Thursday
that starting center
Kwame Brown
will miss three months, and perhaps more, witha torn muscle in his chest.
Results of an MRI performed yesterday on Golden State Warriors center Kwame Brown revealed a torn pectoralis major (the large chest muscle that attaches to his right shoulder), which will require him to undergo surgery within the next few days, the team announced today. The surgery, which has not yet been scheduled, is expected to keep him out for a minimum of three months.

"Obviously, we're very disappointed, especially for Kwame, who was playing extremely well and had worked diligently since his arrival," said Larry Riley, the team's Executive Vice President of Basketball Operations/General Manager. "In a short time, he had proven to be the anchor to our low post defense and certainly lived up to his reputation as one of the top interior defenders in the NBA. He had provided us a big, physical presence in the middle, which is something that we've lacked in the past. Unfortunately, surgery of this nature typically requires, approximately, a three-month recovery period."

The injury occurred at the 6:22 mark of the fourth quarter during the Warriors' game against the Miami Heat on Tuesday, January 10.

"I feel extremely bad for Kwame," said Head Coach Mark Jackson. "He had done absolutely everything that myself and our coaching staff had asked of him and quickly started to change this team's image on the defensive end of the floor. If you look at the last week, in particular, he had some pretty impressive defensive performances, especially against some of the top scoring big men in the NBA. This is a blow, but Kwame and the Warriors will recover and move forward. I know that he will work as hard as he can during rehabilitation."
The Warriors conclude their 2011-2012 regular season on April 26, approximately three and a half months from now. That doesn't bode well for Brown's availability this year.
Brown, 29, signed a 1-year contract worth a reported $7 million with Golden State during the December free agency period. The size of the contract raised some eyebrows but it wasn't terrible. Starting centers come at a premium price in the NBA and the Warriors struck out previously in attempts to land
DeAndre Jordan
and
Tyson Chandler
. With this news, Golden State now has the worst of both worlds: an overpaid center and a hole in the middle that he should be filling but can't due to injury.
Known as a solid low-post defender, this injury hits Golden State, currently ranked No. 23 in the NBA in defensive efficiency, right in the gut. Warriors coach Mark Jackson will now need to turn to Andris Biederins and
Ekpe Udoh
in the middle while perhaps running more non-traditional small ball lineups.
Brown averaged 6.3 points and 6.3 rebounds in 20.8 minutes per game in nine games this season.