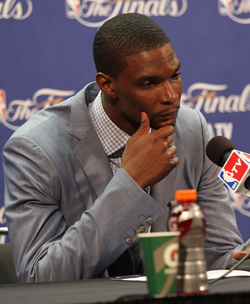 Posted by Royce Young
Before he cut his dreads and joined the Miami
Heat
,
Chris Bosh
was regarded as maybe the best power forward in basketball. He was a consistent 20-10 guy on a bad
Raptors
team and had every team drooling over him.
Versatile, strong, smart and gifted -- Bosh was a prize.
He chose to join
Dwyane Wade
and
LeBron James
in Miami and immediately became a punchline. While Wade and LeBron were seen as the stars, the guys doing the real work, Bosh was the underachiever, the soft guy that didn't do his job. In reality, he averaged 18.7 points and 8.3 rebounds a game last season and is averaging 19.4 and 8.1 this season which aren't bad by any means. Not the 20-10 he consistently put up before, but he wasn't playing alongside two superstars then either.
Still, he's the butt of most Heat jokes, the guy that's easy to pick on. And he's kind of sick of it.
Via SI.com
:
"People created this stigma about [me] and they just ran with it," Bosh said. "And once it was out there, everyone ran with it. It was just talk. There was no evidence to back it up. The name-calling and stuff, it got a little too out of hand. If you want to say my game isn't where it's supposed to be, fine. But the name calling, that's not journalism. Too many people, especially when they don't know me, were just saying a whole lot of stuff that wasn't true."
I'm totally with Bosh -- the name-calling really isn't fair (
except for "Like a Bosh,
" because that's hilarious). He's done his job and played relatively well. There have been times he's disappeared, but I'm not entirely sure you can blame that on him. For example, Wednesday against the
Clippers
, Bosh had a double-double in the first half, but scored just two baskets after halftime and grabbed a lonely rebound. Partially on him, but also on the fact that the Heat tend to squeeze him out late in games. It becomes all about Wade and LeBron instead of maximizing the five guys on the floor.
Bosh has been marginalized to a degree. He's not able to play entirely like himself, and for a reason. As a result, he gets called stupid things like "Bosh Spice" and other dumb names. It's not fair, but that's the deal he signed with the devil when he chose to go to South Beach.
He better get used to it though, because just because he asks nicely doesn't mean it's going to stop. In fact, it'll probably just get worse until the Heat shut their critics up with a ring.