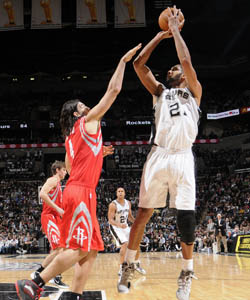 By Matt Moore
As
Tim Duncan
's career winds down, we start to get a sense of just where he stands in NBA history. Wednesday night that became a bit clearer as Duncan passed Larry Bird on the all-time scoring list at No.27 with 17 points against the Houston
Rockets
, making his total 21,798 for his career.
Project
Spurs
does have some context to provide in regards to how quickly Bird and Duncan hit this mark.
Once Duncan passes Bird, the next player is Gary Payton (ranked 26th) with 21,813 points which TD should be able to surpass this season.

Also, it should be noted Bird scored this career points in fewer games (897) while TD scored his career points in 1,063 games and counting.
via
TD on the verge of another milestone | January
.
Also notable, Duncan is behind
Kevin Garnett
,
Ray Allen
, and
Dirk Nowitzki
on the list among his contemporaries. Proof of how great the players of the last fifteen years have been.
Duncan's relatively low ranking is emblematic of his real impact, as a player that did everything on the floor. He's 22nd all-time in rebounds. Tenth all time in blocks. His impact on both ends was greater than any metric can adequately portray, and I'm a pretty metrics-based guy.
Duncan continues to put his stamp on the career of the best power forward in NBA history.