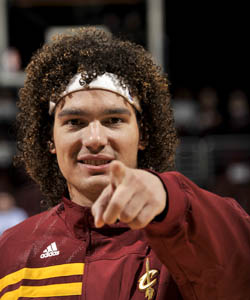 By Matt Moore
The Cleveland
Cavaliers
have a tremendous future.
Kyrie Irving
and
Tristan Thompson
both look good, they have some good supporting pieces, and with another poor year in terms of wins but not team quality, they'll have a great pick in a fantastic draft. Everything's looking up for the future.
So why then is the team so hellbent on keeping and playing its veterans?
Anderson Varejao
is having a a nice rebound season. He missed most of 2011 with injury, and has been back to the sort of gritty play that gets him mentioned as a Defensive Player of the Year candidate every season. But for a team rebuilding trying to find a new foundation? He could be a tremendous trade chip for teams needing a viable center. He comes with a hefty price tag, being owed over $17 million between this year and next, before his contract becomes non-gauranteed in 2013-2014.
But the Cavaliers? They're not selling. From the
Akron Beacon-Journal
:
"It would have to be an unbelievable person to get back," Scott said when asked if the Cavs could part with Varejao. "I look at him as one of the guys you look at and say 'He's not going anywhere.' I just feel that strongly about him and what he means to this team."
via
Cavs' Scott on Varejao: 'He's not going anywhere' - Cavs - Ohio
.
The same problem with this line of thinking is what's wrong with the minutes
Antawn Jamison
is getting for the Cavaliers. It's great to try and win games, if you think you have a legitimate shot this season. But the Cavaliers know they don't. They need to be focused on the future, and that means making room for Tristan Thompson and cashing in on Varejao when his value is high.
Varejao can make a huge impact for a contender should they choose to acquire him and send Cleveland picks and/or young players. He has more value to those teams than he does to the Cavs, as good as he is. There's certainly value to letting Irving and Thompson play with good players. And Jamison's experience does have value even if his schooting has gone completely. But Cleveland should be ready to move towards the future. And it's unlikely that Varejao will be in a position to be a part of that.