Posted by
Ben Golliver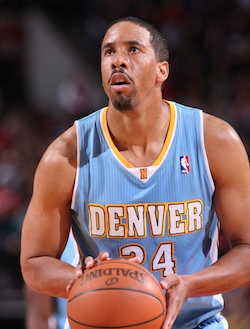 You can't teach an old point guard new tricks.
Veteran floor general
Andre Miller
, traded by the Portland
Trail Blazers
to the Denver
Nuggets
, says his talent outpaces his current role and he will likely seek a new home this summer,
according to FoxSportsFlorida.com
.
Miller, who becomes a free agent after the season, said before Wednesday's game against New Jersey that "probably not" would he return to the Nuggets next season if the role is to back up Ty Lawson. But he wouldn't completely rule that out as a possibility if no better situations were to be available.

"At this point in my career, I don't see myself as a backup," Miller, who entered the NBA in 1999, said in an interview with FOXSports.com. "For 13 years, I wasn't a backup before. This is a short season (due to the lockout), so I'll deal with it. But I don't see myself as a backup at this point in my career. I don't see that."

Miller said he hasn't spoke of not liking his backup role to Nuggets coach George Karl, and that he doesn't plan to have such a conversation. Karl said this was the first he'd heard of Miller's disappointment. "I'm glad he's proud of himself and he wants to play," Karl said. "But I think this still is the best opportunity for him."
Miller, 35, is in his 13th NBA season. He's currently backing up Ty Lawson, 24, who is clearly the team's point guard of the future and has breakout potential for the Nuggets, who are currently 6-4 on the season and boast
a top-10 offense
. Because of Lawson, the marriage between Denver and Miller is a short-term match unless Miller is willing to embrace the reserve role. While he's past his prime, Miller, like
Steve Nash
and
Jason Kidd
, remains effective late in his career.
He's right that there are teams he could start for in the NBA, even at 35. While generally regarded as one of the most underrated point guards in the NBA, Miller is unyielding in his deliberate style and need to have the ball in his hands. An excellent passer who makes up for his lack of athleticism with elite vision, Miller was a solid starter for the Blazers, a one-and-done playoff team, last season.
However, he and Portland coach Nate McMillan had their own squabbles over Miller's role, as former Blazers guard Brandon Roy dominated the ball and preferred a floor-spacing shooter to play alongside him, rather than Miller. McMillan opted to begin the 2009-2010 season by starting current Los Angeles
Lakers
point guard
Steve Blake
over Miller, and McMillan and Miller later engaged in a shouting match during a practice that was overheard by the media. Miller eventually moved into the starting lineup and was a key factor in the development of Blazers forward
LaMarcus Aldridge
during the 2010-2011 season.
Miller is currently averaging 9.8 points and 5.9 assists per game so far this season. He's playing 28.1 minutes per game, the fewest since his rookie season.
Interestingly, Miller's teammate
Al Harrington
had this to say on the CBSSports.com NBA podcast this week:
"I think that we share the basketball, which is probably some of the best team passing that I've been around in my career. Guys are really pulling for each other. No one's really worried about being the top scorer or man on the team, we're just trying to win. Whenever you have that kind of chemistry, I think you can do special things."
Apparently Miller isn't on board with that idea as much. You can listen to the rest of our interview with Al Harrington below: