Posted by
Ben Golliver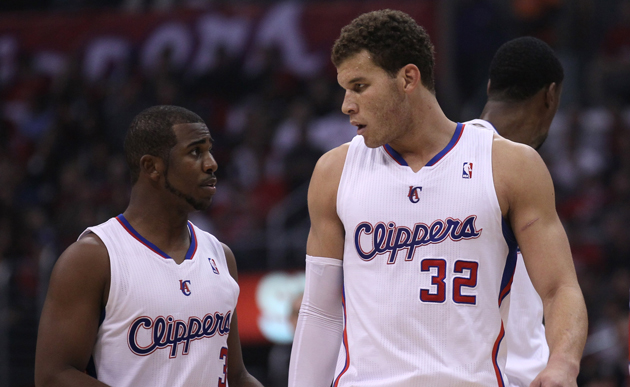 PORTLAND, Ore. -- The most repeated line of this lockout-shortened season is certainly this: "The schedule doesn't do anyone any favors." On Tuesday, those words finally became completely accurate.
Through Monday, it was true for 29 out of the 30 NBA teams. The Los Angeles Clippers, though, received plenty of favors from the season's first two weeks, playing just six games in the first 16 days. Entering Tuesday night's game at the Rose Garden against the Portland Trail Blazers, the Clippers were the only team that hadn't played at least eight games this season. Half of those Clippers' opponents– the Golden State Warriors, Houston Rockets and Milwaukee Bucks – are likely lottery teams.
The Clippers had played just one game every 2.7 days entering Tuesday's action; Over the next seven weeks leading up to the February All-Star break, Los Angeles will play 25 games in 44 days, a game every 1.8 days.
Among those 25 games: the Los Angeles Lakers twice, the Denver Nuggets three times, the defending champion Dallas Mavericks twice, the Oklahoma City Thunder, the Blazers again, the San Antonio Spurs and, on Wednesday night, the Miami Heat. In all, Lob City will play six back-to-backs and a back-to-back-to-back between now and the next Slam Dunk Contest sponsored by Kia.
NBA commissioner David Stern gifted them an all-world floor general and the schedule-makers granted the new-look league darlings a soft launch, but now things get real.
The brutal stretch got off on the wrong foot on Tuesday, a 105-97 loss to the Blazers that was marred by foul trouble for Chris Paul and early struggles for All-Star forward Blake Griffin. Griffin overcame a 2-for-8 start to finish 9-for-17 for 18 points and 12 rebounds, but he was stripped of the ball on a critical late-game possession and showered with boos normally reserved for the likes of LeBron James and Kevin Garnett as he protested, or sought, foul calls.
"We have competitive guys, we just have to do a better job with our spacing offensively," Clippers coach Vinny Del Negro said afterwards. "More so, just locking in defensively. I thought that they got some easy penetration on us. We have to continue to work with our big guys and get through some things to get them on the same page with our new guards."
The early numbers reveal Del Negro's Clippers, now 4-3 on the season, to be a one-sided bunch. Ranked as a top-3 offense, L.A. is a bottom-6 defense and the second worst team when it comes to rebounding rate. (Only the 1-8 Washington Wizards are worse.) Their offense is buoyed by Paul's all-around play and the high-efficiency looks he generates for Griffin and Jordan, but there is a significant energy expense in creating the highlight reel plays, and it will be up to players like Chauncey Billups and Caron Butler to prove they can be consistent tertiary scoring options.
Billups and Butler kept L.A. in the game against the Blazers, scoring 39 combined points and getting to the foul line 11 times. Those efforts were spoiled because Paul was lost to foul trouble for much of the first half.
"It was some bogus stuff that was going on out there," Paul said of the officiating. "You know what I mean? But it's part of the game. I know those guys and they flop on you but it goes like that sometimes."
Paul finished with 11 points, 3 assists and two turnovers in 31 minutes,
"He got in some early foul trouble on some questionable calls," Del Negro added. "He was a little bit tentative. He missed a couple of easy ones early and could never really get going."
Although Del Negro went on to say, "We need everybody, it's not just one guy," the Clippers will need more from Paul, their blockbuster trade acquisition. While his shooting numbers are excellent, his scoring so far – 14.8 points per game – is down from previous years and his 8.4 assists are the fewest since his rookie year. He's adjusting to new teammates, a new city and a new coach, so L.A.'s easy start was a major blessing.
But the loss to Portland was a reminder that, barring another major trade, this team will live-and-die with Paul's effectiveness. The drop-off in talent after the Clippers' top-6 guys is steep so dominance is required from CP3.
"Paul does a good job with defending," Blazers coach Nate McMillan said. "He reaches for the ball, he defends well and a couple of times early in the first half the officials caught it which really changed the tempo for them when he went out of the game."
Blazers point guard Raymond Felton went hard at Paul throughout on Tuesday, finishing with 17 points and 8 assists, and Paul was not able to establish Griffin in the post until it was too late. Portland was content with letting Billups and Butler get their shots from outside, where L.A. is shooting just 31.4 percent as a team so far this season.
"Tonight we got more aggressive on the pick-and-roll defense, we were trapping the post-ups," McMillan said. "We didn't let Griffin really play in the paint… The one thing we needed to do was be aggressive, make this team shoot from the outside, finish with the rebounds. I thought we did that."
McMillan's Blazers are, perhaps, the surprise team of 2011-2012, off to a 7-2 start when many predicted they would be a lower-seed playoff team. Tuesday's win was revenge for a New Year's Day shellacking in Los Angeles, when the Clippers beat Portland, 93-88, in a game that was much more one-sided than the final score indicated.
For all of Portland's homecourt advantage – the Blazers are now 6-0 at the Rose Garden this season – and Paul's foul trouble, and Griffin's struggles, and L.A.'s lack of a bench, the Clippers were within 3 points with less than 30 seconds to play. One Paul steal from potentially stealing what would have been the early season's signature win.
"That's a very good team over there," McMillan said, knowing he dodged a bullet.

That the miracle comeback didn't happen helps keep the to-date progress in perspective for a team that is always one alley-oop away from being the most hyped team in the league.

We'll find out whether McMillan's prognosis of "very good" is accurate immediately. LeBron James, Dwyane Wade, Chris Bosh and company arrive at the Staples Center, smarting from an ugly overtime loss to the Golden State Warriors on Tuesday. Kobe Bryant, the 48-point man, is lurking in the background for a Saturday night Battle for L.A. Then three games in three nights to start next week. No sleep, really, until Orlando in late-February, where Paul and Griffin will surely be major centers of attention.
Welcome, Clippers, to the world of "no favors." Glad you could make it.