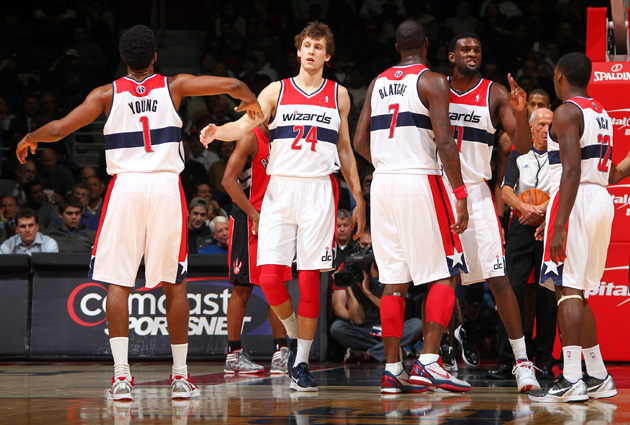 By Matt Moore


Your nightly report card gives you a big picture look at what happened each night in the NBA. Grades are granted based on team or individual performances, and are graded on a curve for each element. Leave your own grades in the comments.

A win! A real win! The
Nets
(0-18 start) is safe! Crack the champagne! Or Shasta! Or something. The Wizards were desperate, the Raptors were lethargic, the Wizards' offense wasn't gangbusters but their defense was stout. The
Raptors
cut the lead to 8 at one point, and then the Wizards just hit them in the mouth.
Trevor Booker
was tough inside,
Chris Singleton
was productive,
John Wall
had an efficient game passing (and still can't shoot). It wasn't a great game. But a win to get them off the snide, their first of the season? That's an A.

Since we grade on a curve, the Bulls weren't flawless on defense, and the Wolves game them a good scare. But they executed and executed and answered everything the Wolves tried to do in order to steal momentum. Rose came back from an ankle injury and still closed out the game in style, including a dagger right in the eye of
Ricky Rubio
to put the fire out.
But the Wolves were right there. And where so many teams would wilt and die under the Bulls' pressure, the Wolves stayed in there. What's more, they controlled the turnover battle and produced on offense. Defense was their problem (*cough*
Kevin Love
*cough*) but they still got some big performances from their stars (*cough* Kevin Love *cough*).
Portland Trail Blazers



The Clippers hung in this one, and that says something about where both teams are at. But the Blazers got what they needed, particularly from Gerald Wallace and Raymond Felton. Felton took over with a whirling dervish of layups and stripped Blake Griffin down the stretch. The Blazers continue to pressure teams into mistakes. It wasn't a flawless performance by any means, but it is a revenge get from the game they let slip in Staples. Blazers keep rolling.

They beat the
Bobcats
while shooting 39 percent from the field, 35 percent from the arc, and 75 percent from the line. They turned it over 22 times and the Bobcats were missing two starters. So no, I am not impressed. One thing to watch, though.
Jordan Hill
has become a legitimate center in this league. After being cast off by the
Knicks
, he's one of the league leaders in rebound percentage and is playing efficiently at both ends. A good gamble that paid off for Houston.
Memphis Grizzlies down the stretch

The Grizzlies were in this. In all honesty, they should get a B for their work against an exceptional OKC team. But down the stretch, in a tight game, the continuously made stupid fouls against
Russell Westbrook
who they have never been able to contain when he's in gear.
Rudy Gay
repeatedly took threes when they needed him creating inside, then turned the ball over in one-possession game. The Grizzlies' final meaningful possession was a Westbrook block of a Conley layup. Someone has to step up and make plays for this team if they're ever going to get out of their hole.
Toronto Raptors

Lost to the Wizards. Au-to-mat-ic.

Oh, here's a new one!
The Heat did what they are most known for, completely self-destructing in the fourth quarter. LeBron James did not attempt a field goal in the fourth quarter. In overtime he missed several key shots and was blocked. He took a poor shot to go for the tie instead of working inside and all that post work we talked about? Gone.
The Heat have been incredible this season, and that's not media fawning, that's just how good their play has been. But Tuesday night was a reminder that that hideous version of themselves that cost their team a championship still exists. They freeze, they lock up, and they let the whole world rain down on their heads. They utterly failed against a team they had down 17 Tuesday night.
Gold Stars:
Kobe Bryant
(48 points on 18/31 shooting); Gerald Wallace (20-4-4 and so many huge plays there are too many to count plus a dagger three);
David Lee
, Dorrell Wright, Raymond Felton,
Al Jefferson
(30 and 12), Russell Westbrook