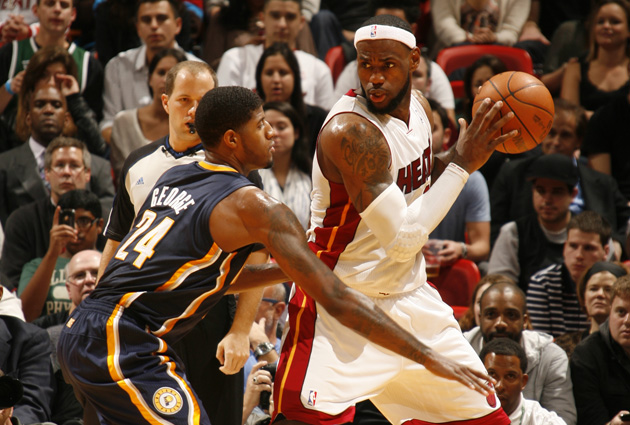 By Matt Moore
Let's pretend for a minute that
LeBron James
isn't LeBron James. Let's take away his massive ego which has risen up and taken control of his cerebral cortex more than once a week over the past two years. Let's take away the polarizing nature of "The Decision" and the epic failures in the fourth quarter during the Finals (after Game 3). Let's remove him teaming up with too much talent, from premature talk of his greatness, from all the things that make us recognize LeBron James as the professional athlete or media entity we associate him with. Let's pretend, just for a moment, that he's just another basketball player.
If we assume for a minute that we want all players to reach their potential, because that makes for the most entertaining games possible, even if fans hope for their particular team's best to be better than everyone else's best, then there's something to be noted about James this year. He's doing it. Particularly in the biggest area of criticism for him, outside of clutch play.
For years, people have marveled at James' athleticism. To put it simply, the dude's a truck that moves like a jackrabbit. He's got so much power and speed packed into that 285 lb. (a rough number, he drifts between 295 and 260 and protects the number like his bank account) frame, but there's the hitch. He has never really exerted it in the post. He's bigger than any 3 that can guard him, faster than any 4. So why not just pound guys into oblivion in the post instead of drifting into those pull-up perimeter shots?
I've long thought that James' fascination with Michael Jordan had a lot to do with it. After all, kids of LeBron's generation didn't grow up emulating Kareem's sky hook or even the Dream Shake. They idolized "The Shot,'" worshipped Jordan's turnaround jumper, the push-off jumper against the
Jazz
. His game always seemed to take on the impression of trying to conform to what we think of as a star scorer. "Rise and fire" as it were.
But that's changing. As ESPN.com's Brian Windhorst noted Tuesday:
Meanwhile, Spoelstra is growing a little fatigued of answering questions about James' post game. He knows quite well that James posted up on seven percent of his offensive plays last season and now it is more than 15 percent. He knows that James is shooting 65 percent on those post plays, the best in the NBA so far. He also knows has that James averages 1.219 points per play from the post, another in-depth stat that Spoelstra specializes in.

Those stats and the ones fans are much more familiar with – like James' 30.1 point scoring average and his 60 percent shooting percentage – say the obvious: keep doing it. They are a major reason the Heat are 8-1 and looking like a juggernaut offensive team.

Still the James in the post talk is what the coach calls "a storyline," an easy idea for the media to ask and write about. In a new city, the questions about it are coming and Spoelstra answers them without much feeling behind it.

"It's making us much more dynamic and efficient," Spoelstra said. "We're able to do it in different ways. Not just the post. People want to compartmentalize what we're doing. There's actually been a lot of tweaks."
via
LeBron's transformation into an inside man - Heat Index Blog - ESPN
.
And that's definitely true. From the wide-open, Oregon Ducks-influenced changes in transition to the alterations to
Chris Bosh
's approach, to what
Mario Chalmers
is doing on and off ball, the Heat are a wildly different team. And yet the changes to James can be most impactful. In the post, there is no one that can guard him one-on-one. When single covered, James is unstoppable, scoring 68 percent of the time. But there is still a weakness. When doubled, James has turned the ball over 20 percent of the time. It's still a tiny sample in this young season, but at least it shows there is a weakness.
More to the point than numbers and figures, however, is the philosophical change this demonstrates in James and what it means. Players are defensive of their game. After all, it's their craft. They have dedicated their lives to it and no one wants to have their job performance ripped apart, most often times by people who could never replicate it. There's a pride that goes with it. Consider for a moment,
Kobe Bryant
's comments to Yahoo Sports this week about how he will not be changing his game, despite struggles with his shot before this week's 3-game hot streak as well as continuing issues with turnovers while dominating the field goal attempts of the
Lakers
.
"I shoot, I shoot," Bryant said. "You've known that for 16 years. I'm not changing my game. If the defense is not doubling, I'm going to score. If I've got a good look, I'm going to score. My teammates know that. But I also give them the ball, too, and set them up.

"But at the end of the day, I'm a scorer first."
via
Kobe sees few cracks in championship foundation - NBA - Yahoo! Sports
.
Now, it should be noted that Bryant has radically altered his game throughout the years, adapting a face-up game and then becoming one of the deadliest post players in the league. But these adjustments were largely extensions of his pre-existing skill-set. Turnaround-jumper, off-hand layup, driving dunk. What James is faced with is a need to become more than what he's been. And what he's been has been an MVP caliber player. So from that perspective it's easy to see why he may have resisted change. But alongside his work in the post, James has done much more in transition. His decisions are quicker when he's running point. He has arguably the widest skillset of any player in the league, but for the first time, he's putting all of them to use.
This could fade away. James could suffer a serious injury and return to pull-up threes and tentative jump-passes. But the work in the post stands for more than just the changes the Heat have made to their offense. It represents an extension of James' self-awareness and exploration of his own game, and hints at the possibility of him becoming the player he was so undeservedly crowned to be so early in his career. If it was any other player, you'd want to pull for that, you'd want to urge him to keep it up.
But then to take that blind approach is to ignore elements as plain as the nose on his face, a transgression as blatant as James' own avoidance of the post game.
James has to change his game before people change their minds.