Posted by Royce Young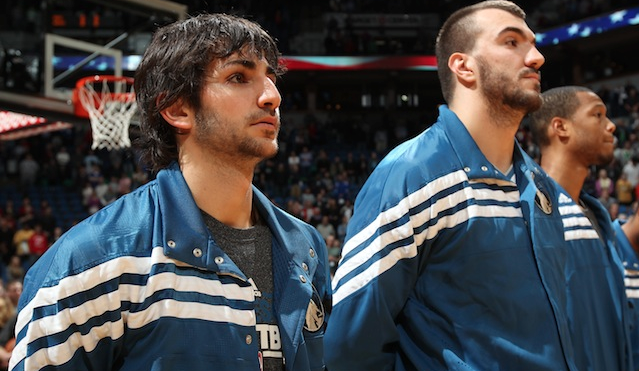 So
Ricky Rubio
is living up the the hype he carried around with him before the draft in 2009. He's a passing savant, a true genius with the ball in his hands. He sees the floor like he uses a superpower to pick out a cutting teammate. He puts passes right on the money, finds space and even has shown a little more offense than expected.
And yet, he still finds himself behind
Luke Ridnour
on the depth chart. Understandable. We're only nine games into the season and there was no telling that Rubio would be this NBA ready. You didn't want to just throw him to the wolves (get it? you get it) and let him learn on the fly. Minnesota wanted to develop him, make sure the game wasn't too fast for him and bring him along slowly. No need to rush.
But, then again, Rubio has been, well,
awesome
. And while yes, it's just nine games, those nine games haven proven that a) Ricky Rubio is better than Luke Ridnour and b) Rubio is obviously the point guard of the future for the team. So considering those two factors and also that the Wolves aren't risking a playoff spot by handing the keys entirely to Rubio, it's time to start asking: Why is he not starting?
Probably because his defense is still bad, right? I mean, that's what pretty much everyone wanted to fall back on while critiquing the young Spaniard.
Sure he's flashy, but NBA point guards will tear him apart
.
So, have they? Through the Wolves nine games, Rubio has taken on opposing point guards like
Russell Westbrook
,
Brandon Jennings
,
Tony Parker
,
Kyrie Irving
and
John Wall
and has a matchup with MVP
Derrick Rose
Tuesday night. A pretty good batch of talent to measure himself against. Granted, Luke Ridnour is technically the starter and Rubio gets quite a bit of second quarter minutes when a second unit is on the floor, but note that Rubio has played virtually every entire fourth quarter, which means he has seen probably more time on the opposite starting point than Ridnour.
How'd he do? Westbrook scored 28 on 10-21 shooting but turned it over seven times. Jennings went for 24 and seven assists. Parker had just 11 points on 3-11 shooting. Irving scored 14 on 12 shots and had seven turns. And Wall was just 3-10 from the floor with four turnovers.
The lesson: Rubio isn't getting dominated by any stretch. He's holding his own, and in some cases, playing pretty good defense. For instance, in Minnesota's opener against the
Thunder
, Rubio did a great job staying in front of an attacking Westbrook, taking a critical charge late in the fourth quarter. He moved his feet, kept position and didn't reach. He leads the Wolves in steals with 1.3 a game (15 in the league among point guards) and has shown excellent passing lane instincts. You can be a great player without playing great defense.
Steve Nash
has always been a pretty mild defender, but does a serviceable enough job to not make it a glaring issue. And that's what Rubio's doing. He's not going to be a stopper by any means, but he's not getting abused.
And when you can make plays on the other end, it often doesn't matter either way. Rubio changes the way the Wolves play. Their best lineup in terms of plus-minus includes him, and it's not close.
Now, Rick Adelman knows basketball and his team a whole lot better than I do. He knows what he's doing. But you can be sure he's trying to figure out when the right time to make the transition is. Maybe it's that David Kahn wants to build up Ridnour's trade value and then deal the veteran to make a natural hole for Rubio. Maybe the idea is since
Derrick Williams
can't start because
Michael Beasley
(or
Wayne Ellington
) is in front of him that it's better to keep Rubio and Williams playing together in the second unit because that's the future of the Wolves. Maybe it's just because Adelman doesn't see Rubio as ready.
But if that last one was the case, Rubio wouldn't have played every single minute of every single fourth quarter so far this season. He hasn't come out those last 12 minutes yet. Adelman clearly trusts him with crunch-time and clearly thinks he can handle those important minutes. Adelman likes to use Ridnour and Rubio together a lot in the fourth, but the point is, Rubio is getting starter minutes for the most part, especially in terms of the
quality
of the minutes. So he's getting the necessary experience.
It's clear though that the future of the Wolves rests in Rubio's hands as their starting point guard. He wasn't drafted and didn't finally come over from Spain to back up Luke Ridnour. It's about timing. It might happen after the All-Star break or trade deadline or it might not happen until next season.
Point is, Rubio's ready for it. Why delay it? He's proven he can handle the responsibility of driving the Wolves car, he can defend well enough and is the future. It's not a question of if he'll ever start, it's just a matter of when, and how soon.