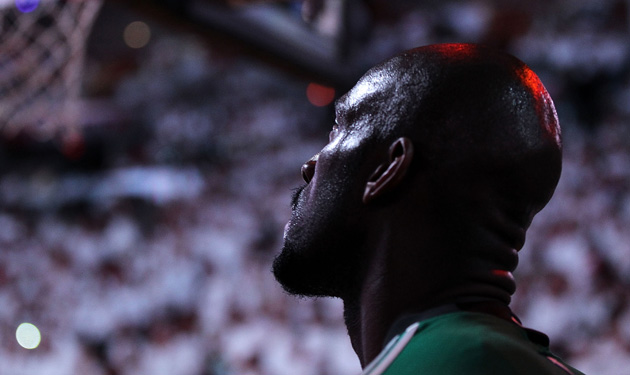 By Matt Moore
I tend to think of the other side whenever a player dumps a team. There's all the excitement for what that superstar will do with his new city, with new teammates, with, in most cases, better supporting casts. But often the team left behind is overlooked. So it was with
Kevin Garnett
. I've read countless pieces on Garnett from
Timberwolves
fans and the refrain is deafening and nearly unanimous: They love the guy. Still. There are no hard feelings over the abandonment, no bitterness. Even when Garnett showed the team up in Garnett's first return to Minnesota, a game that shouldn't have been close considering the gap in talent between Garnett's in-their-prime
Celtics
and the rebuilding Wolves, with Garnett thumphing his chest more than usual) and popping his Celtics jersey at his former club, Wolves fans loved him for it. The truth of the matter is, when you suffer for a team, and that team is still bad, and you are excellent, you're forgiven.
The comparisons between how Garnett was treated and how
LeBron James
was treated, outside of the absurd and insulting nature of "The Decision" are staggering and
you can read more about that here
.
But it's easy, with the Celtics struggling to stay competitive, with their window rapidly shutting and with only one championship ring to show for it (as if that would be a disappointment for any other franchise in the league outside of L.A.), to forget that what made Garnett joining the Celtics special wasn't just a big-name player joining a big-name team. It was this player, a player who demanded excellence out of himself and his team every night, joining a franchise that has expected the same since its inception, since Red Auerbach literally invented the phrase "victory cigar." Garnett may wind up going down behind the true greats of all time because of how his career worked out, but the connection between Garnett and Boston is more than just that of a player who came ring chasing and won a title. He's a continuation of a work ethic, of a devotion to basketball craft. And if you don't get it, you just don't get it.
In short, it's a Celtics thing.
Which brings us to this video:
Those are comments that you hear a lot. "It's about the team." But look at how Garnett talks about it. This isn't a salesman going through the motions at a sales meeting. This is a pastor preaching to the faithful.
This is the testimony from the Book of KG.
Garnett talking about how Doc has "this much foot in (his) ass right now" is a perfect example of what sets this team, this franchise apart from so many. This is Kevin Garnett, a Hall of Famer, one of the greatest power forwards to ever play of the game, and there is total deferral to the head coach. There's no "I think I played fine" or defensiveness. Garnett is actively taking responsibility for his play and for what the team needs him to do.
Garnett makes you believe that the cliches are real. Trust me, when you do this enough, you can tell from inflection who means it and who's going through the motions. And some go through the motions with the press but believe it privately. But KG is one of the few in the league who talks the talk of the walk he walks. In a sport where so many players are steadfast in their struggle to be self-aware, to understand how much greater they can be if they let go of ego, who are always considering themselves and their image and brand first, Garnett is a rarity. He was made to do this. He was made for Boston.
He was made to be a Celtic.
And that can mean more than the rings won by some in this league who simply latched on to a championship squad for the ride. You have to have an identity, you have to have standards, you have to have accountability. And you have to have a leader like Kevin Garnett to stand at the front and say so.