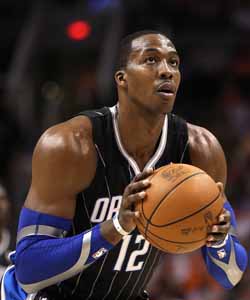 Posted by Royce Young
You may have thought the
Dwight Howard
drama had gone away, but really, we're just stuck in a holding pattern. Because Howard still hasn't withdrawn his request to be traded.
Via the Orlando Sentinel
:
Dwight Howard's request to be traded still stands, and the Orlando Magic's general manager doesn't feel the team has done much to change the superstar's mind.

"Nothing has changed," Howard said before the Magic faced the Sacramento Kings at Power Balance Pavilion on Sunday.

Otis Smith confirmed Howard has not taken his trade request off the table and that Howard's agent still has permission to speak with three, and only three, teams: the Dallas Mavericks, the Los Angeles Lakers and the New Jersey Nets.

"I think his leaving or going has nothing to do with Orlando," Smith said of Howard. "I think he wants a bigger market. I can't do anything about that."
I continue to be confused by this whole situation. The Magic seem to still be of the position to let Howard sign or walk in free agency, but understand that he has requested a deal and Smith even acknowledges it.
But maybe the Magic are just going to wait until the March 15 trade deadline to see what kind of offers roll in. Smith flirted with a few deals during training camp but all that noise has died down mostly since the season started. Or maybe the Magic are going to just let Howard either stay or leave during free agency, which is a philsophpy I'm a fan of.
Howard has said he thinks there's a "zero percent" chance
he's dealt before the All-Star break, which of course is in Orlando. He also said he doesn't think he'll be dealt before the trade deadline. The Magic want to use every second they can to win him back and convince him Orlando is a playing worth staying long-term.
Still, Howard is pretty much openly saying that he doesn't really want to be in Orlando, isn't he? Smith realizes it, the fans get it, Howard is saying it -- so are they really just going to continue on like this isn't an issue? The Magic aren't some terrible team that have no chance. That's a playoff team and depending on how the East shakes out, could be a top four seed.
So I guess we'll just stay right where we're at -- wait and see.