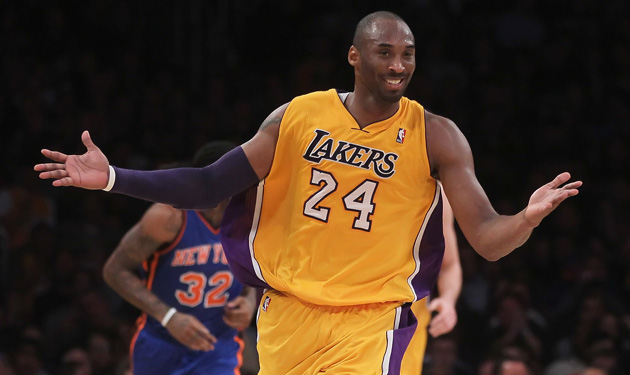 By Matt Moore
Welcome to the Baseline Awards, a weekly feature that goes over the biggest stories of the past week and hands out awards. Because awards are fun!
Eastern Conference Player of the Week: Best Overall performance by Eastern Player
Chris Bosh
Carmelo Antony is the easy choice here, but with the
Knicks
' struggles this week, and the
Heat
's overall success, Bosh gets the run. Bosh averaged 21 points and 7 rebounds over 4 games with the Heat this week, but more importantly, he was the rock for the Heat with
Dwyane Wade
and
LeBron James
missing time with injuries. Bosh has been more aggressive on both ends of the floor this season. He's allowing just .788 points per possession defensively this season and has been more aggressive in all phases of the game. It's still not a true "Big 3" but Bosh is changing his reputation this year.
Western Conference Player of the Week: Best Overall performance by Western Player
Kobe Bryant
Welcome to the new Kobe. Bryant averaged 33.0 points per game this week with scoring totals of 37, 30, and 39 before Sunday night's 26-point performance against the
Grizzlies
. And yet the Grizzlies game may have been his best performance. He worked in the flow of the offense instead of breaking off in perimeter ISO. He played out of the post to get his array of moves going and created space against quality defenders, and he tallied nine assists. More than the numbers, though, he took his shots when he could create them and down the stretch, when faced with an open jumper at the top of the key versus a closing defender or reposting
Andrew Bynum
, he gave the big man the ball and let him draw the foul. A phenomenal performance from Bryant, outside of his game against Portland.
Struggler of the Week: Player with worst performance qualified for expectations
Danny Granger
Granger had the worst percentage of any player over the past week, shooting just 24.5 percent from the field. He nabbed just 3.3 rebounds and dished just over one assist a game. Those are numbers you show to your kids at night to scare them into being good NBA players. Granger's clearly affected by the ankle injury he's struggled through, but right now a
Pacers
offense that needs him to carry his share of the load is missing him. Granger,
for his part, isn't worried about it
, and says it's a bunch of layups rattling halfway down and out.
DOMINATOR AWARD: Most dominant performance
Andrew Bynum
Bynum averaged 16 rebounds per 36 minutes of play this week, and that only begins to describe his impact since returning from suspension. Bynum is unstoppable right now. It's not just the tip-ins after tip-ins, it's how he's altering shots, finishing lobs, creating space, working in the block. Bynum is Godzilla right now. Dwight Hward was still better overall (one more point in twelve fewer shots) but Bynum is unquestionably the second best center in the league right now.
The Puzzling Enigma Award: Strangest week from player or team
Atlanta
Hawks
Beat the Heat in Miami, with Wade and James playing by eight. Lose to Chicgo by two. Lose to the Heat, at home, on national television, without James or Wade, in double overtime, then have the
Bobcats
take you to overtime the very next night... and then on the third game of a back-to-back-to-back, beat the same
Bulls
team by 15.
What?!
The Hawks are that sibling that shows up for random family functions. Sometimes they bring toys for the kids. Sometimes they drunkenly stumble into the cake table. Sometimes they're not there at all. Sometimes they're solid as a rock. There's just no way of knowing what you're going to get form them on any given night. They're winning, and yet you can't watch them consistently and believe they're going anywhere. It's perplexing. I need to lie down.


The Horde Award: Team you should fear
Portland
Trail Blazers
No one is playing better overall ball right now. In a sluggish contest against Cleveland on a back to back Sunday, the
Cavaliers
had done a lot of things right and the Blazers couldn't throw the ball in the ocean. So what did they do? They came out after halftime and crushed them. This just three days after their biggest win of the season over the
Lakers
at home.
And so much of it is
Gerald Wallace
. He is consistently the best player on the floor for Portland, and that's on a team with
LaMarcus Aldridge
. He's doing everything and doing it right. The Blazers are a buzzsaw right now.
Cub Scout Troop Award: Team you should not fear
The
Wizards
are so easy it's painful. They're bad in every single phase of the game. Is it hot in here or it just Flip Saunders' seat? Wocka-wocka-wocka!
The McGavin Award: Best shooter
Paul George
is hitting 73 percent from three-point range over the past five games.
That's insane.
George went away for the lockout and came back as one of the best catch-and-shoot assassins in the league. He's been a huge part of the Pacers' success. His length allows him to create separation any time he rises to fire and his release is Sundance-Kid-esque at this point. He pops over the screen and the nanosecond the ball hits his hands it's going toward his shooting motion.
Searching For Bobby Fischer Award for Stratagem:
Erik Spoelestra
Managed to keep winning without Wade and for a game without James against a playoff team. Has not only had the team adjust to the zone that gave them problems against Boston, but crushed teams who pulled it out. Has everyone motivated and on the same page and kept a low profile. It's easy to cast off the Heat's success as just talent, but if you watch the games, you'll know Spo is doing a hell of a job.
Awkward Water Cooler Conversation Award for Coaching Struggle:
Scott Skies
Bogut's been out, so that's obviously a problem. But for the second year in a row, the
Bucks
have come stumbling out of the gate. There's going to continue to be concerns that Skiles has lost this team as has happened in his other stops until they put together a string of good games, and that means on both sides of the ball. They have to find some offense somehow, someway.
Blog of the Week:


Sactown Royalty
The
Kings
have a lot of moving parts and a lot of complicated issues on both sides of the ball. For a team that's been so bad for so long, you won't find a better place for analysis than SR, headed by SBNation's Tom Ziller.
Awards Watch:MVP Five to Consider (no particular order):
LeBron James
Derrick Rose
Kobe Bryant
Dwight Howard
Gerald Wallace
ROY Five to Consider:
Ricky Rubio
Kyrie Irving
Markieff Morris
Kawhi Leonard
MarShon Brooks
6th Man of the Year Five to Consider:
James Harden
Al Harrington
Jason Terry
Lou Williams
Jamal Crawford