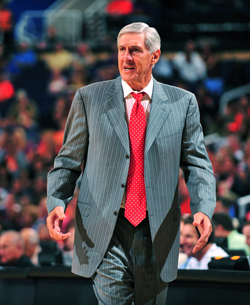 Posted by Royce Young
Jerry Sloan was one of the greatest coaches in NBA history. He has 1,221 wins to his name, which is only 114 behind Don Nelson for the most all-time. He's one of only five coaches to reach the thousand win milestone.
But his career ended in kind of a sour manner. After spending pretty much all of his professional head coaching career patrolling the Utah
Jazz
sideline, he exited halfway through the season last year amidst some reported tension in the locker room between him and
Deron Williams
. Sloan, who had been a head coach for 23 seasons with the Jazz and is 69 years old, was worn out and obviously didn't want to deal with the egos and problems within the locker room.
So he resigned. And said he thought he was done for good.
But with the way he's talking now, it sounds like he might be reconsidering.
Via SI.com
, Sloan was asked about coaching again:
"I think if the right situation came along, whatever that is," he said before pausing to ponder. "I don't know what the right situation is. We'll have to wait and see, I guess."

[...]

"My energy level has changed a great deal since I quit coaching," said Sloan, who is an avid walker. "It's changed a lot now. I've had time to work out. I feel better."
According to the story, the
Pacers
contacted Sloan last season about their head coaching position before giving it full time to interim coach Frank Vogel.
So what's the right situation? A high profile job like the
Knicks
? Maybe something coaching young players like the
Wizards
? Or an established team just looking for a new direction, maybe like the
Hawks
? Who knows what Sloan has in mind, but it's pretty obvious that he's going to answer the phone if he gets a call from a team.