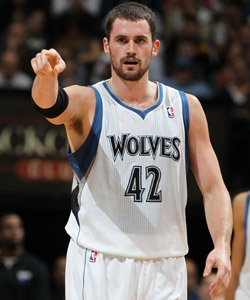 Posted by Royce Young
If I told you a player averaged 20.2 points and 15.9 rebounds per game for a season and then came out of the gates the following one doing even better putting up 26.1 ppg and 14.9 rpg, you'd say that guy is a max player, right?
Which is why there should be zero discussion around
Kevin Love
's worthiness of a max contract from the
Timberwolves
.
The was a report last week
that Love had not been offered an extension from the Wolves yet,
but according to 1500 ESPN Radio in Minnesota
, the Wolves are preparing to make Love a max contract offer before the Jan. 25 deadline.
"One team source said he would be 'shocked' if a maximum contract offer to Love isn't made by the 11 p.m. deadline on Jan. 25.," the report says.
After that, it's just a question of whether or not Love will accept. You would think pretty much every team would line up for Love's services (he averages at least 25-15 nightly for crying out loud!) and you can see that his game is evolving.
Love told the radio station in an interview that he's not so sure though. At least not yet.
"It's all in my agent's hands," Love said. "I just don't know what I am going to do. I'm happy to be a Timberwolf at this point and happy we're winning games."
Why would Love turn it down? Well, because during his time with the Wolves, he really hasn't had the opportunity to see a path to prosperity. The Wolves have routinely been one of the league's worst teams and if Love hasn't bought into the direction of the franchise, he's not going to re-up to toil away in last place for five more years.
Except finally this season with the additions of
Ricky Rubio
, J.J. Barea and
Derrick Williams
, there are actually signs of something happening with the Wolves. It's early and Minnesota just dropped an ugly game to the
Cavaliers
Saturday, but it doesn't look hopeless. I think you could still say the confidence level in general manager David Kahn is low, but with Rick Adelman coaching and the young pieces on the team, there's reason to believe it could be a worthwhile place to stay.
Love could take the easy way out and go somewhere else. But you know he'd much rather build a winner with the team that drafted him. If he sees something working -- which he should because the Wolves finally appear to be on the right road at least -- there's no reason he won't sign if, or when, the Wolves make that big extension offer.