Posted by
Ben Golliver
.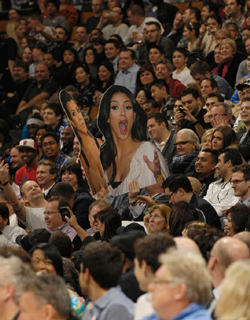 Opposing crowds have been giving
Kris Humphries
the business so far this season. But nobody did it bigger than a group of Toronto
Raptors
fans.
There's been a major backlash against the New Jersey
Nets
forward for his 72-day marriage with reality television star Kim Kardashian, which abruptly ended in divorce
back in October
. A rebounding specialist who mostly flew under the radar prior to the relationship, Humphries has been booed by crowds around the league and was even voted the
most disliked NBA player
in December.
Now in his eighth NBA year, Humphries was a member of the Raptors during the 2007-2008 and 2008-2009 seasons. The Nets made their first trip to the Air Canada Centre on Friday night, and the Toronto crowd was lying in wait. A group of fans sitting in the lower-level brought giant cardboard cutout pictures of Humphries' ex-wife Kim and her family. The images created an immediate stir, leading fellow fans to snap photos of them, as you can see in the shot to the right.
Picture via @JaySatur
.
The Toronto Sun has a picture of the whole posse
plus an interview with one of the sign-holders, who provides their rationale.
Yet the New Jersey Nets power forward couldn't escape his ex. About 10 minutes into the second quarter, a group of men in the fourth row held up huge signs bearing the faces of the Kardashian women.


"It's just to rattle him a little," said one of the sign bearers, who wished to remain anonymous for "obvious reasons."

The men didn't get much mileage out of their signs, which were confiscated by ACC staff for being malicious.
Humphries got the last laugh on Friday. The Nets got the road win, 97-85. While shooting just 2-for-8 for six points, he finished with a game-high 16 rebounds.
Hat tip: @Nat77