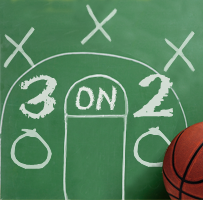 3-on-2 explores the answers to two questions from each of our three bloggers on EOB. This week's topic?
DeMarcus Cousins
and the firing of Paul Westphal.
1. Is DeMarcus Cousins worth the hassle for the Kings, specifically?Ben Golliver:
This was an excellent question to ask... before the 2010 NBA Draft. Now it's pretty much too late with things having evolved along a worst case scenario since the Kings opted to take the plunge. Cousins hasn't matured, he hasn't produced in such overwhelming volume that would make his pouting and off-court distractions worth putting up with and he hasn't played either so well that he is truly tradeable or so poorly that, a la
Hasheem Thabeet
, Sacramento can just cut ties and move on without him. Sacramento is stuck with him now whether he's worth the hassle or not. A new coach can bring a second lease on life to players who act out like he has. It's a possibility worth praying for in this case but don't bank on it.
Royce Young:
Yes, for now. Cousins isn't guaranteed to be the problem. Sometimes players and coaches simply don't get along. Players with attitudes like Cousins can be successful in the league as long as they fit in and are part of a culture they fit. See: Wallace, Rasheed. Cousins has enough talent to wait it out. Keith Smart will be more of a players' coach than Westphal so if Cousins clashes with him and is clearly disrupting the locker room and bringing down the attitude and development of the team, that's when you part ways.
Matt Moore:
Not for this team, I'm convinced. Cousins has the potential to be an NBA All-Star but he needs rigid structure. He has to have a team that puts very specific limits on his behavior, without doing so confrontationally. He needs veteran leadership to set an example for him. (COUGH* BOSTON* COUGH.) The Kings are in too much flux to hang on to him. He has great value, and you never want to give up on a player on a rookie contract with talent. The Kings don't need further headaches. They've created enough of their own.
2. Does firing Westphal after the Cousins incident this week set a dangerous precedent? If so, why, if not, why not?Golliver:
Firing Westphal was Sacramento taking a not-particularly-expensive stand against ineffective coaching and terrible relationship management. It was clear from Sacramento's second game of the season that the Kings weren't playing for him. Bigger than any individual player who winds up looking like a coach-killer or feeling like he can do whatever he wants with no repercussions is the message that you send to every player if you keep Westphal around as a lame duck. That message would be: "We're totally cool with totally sucking." New coach Keith Smart will need to work immediately to lay new ground rules for both DeMarcus Cousins and
Tyreke Evans
, who hasn't played to his capabilities this year, or Sacramento will be coach-hunting again before they know it.
Young:
It only seems that way because Geoff Petrie for some reason allowed Westphal to send out that trade demand press release last week. Without that, we're probably talking about why Westphal was fired because over two-plus seasons he'd only won 50 games. You never want the appearance that a player got a coach fired, but remember, Jerry Sloan kind of sort of retired partly because of
Deron Williams
and that situation. It's not really anything new. It's an ugly situation and it kind of scares Cousins' already tarnished reputation, but it happens. It's a players league. Always has been and always will be.
Moore:
Allowing the entire debacle paints the picture. Cousins didn't want to play for Westphal. Now he won't. The better approach would have been to recognize that Cousins was a bigger part of the Kings' future than Paul Westphal. Because the result is a situation that may have been justifiable, and yet still looks bad and makes management seem weak with regards to the next time a player becomes disgruntled.