Posted by
Ben Golliver
.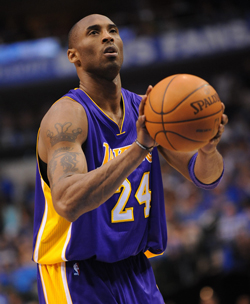 PORTLAND, Ore. --
Earlier this week, we noted
that Los Angeles
Lakers
All-Star guard
Kobe Bryant
was sticking to his guns when it comes to his shot volume. One of the NBA's all-time most prolific shooters, Bryant told reporters then that his wrist injury, the rise of center
Andrew Bynum
and a new Lakers offense won't slow down his shooting whatsoever.
Nevertheless, questions have continued to swirl about what is the right number of shots for Bryant to take. Once again, he is
leading the NBA
with 22.5 per game through eight games. Next on the list: Golden State
Warriors
guard
Monta Ellis
with 20.8.
Prior to a nationally-televised Thursday night game against the Portland
Trail Blazers
, Bryant pointed to his past to explain why he should keep hucking, calling out his critics in the process.
"Look, I've played 15 years. I've won world championships. I've done all these things. And people still want to talk about this stupid-a** [stuff]? I'm a scorer first ... I'll try to make the good play, the good pass, kick it out when my teammates are open, but I'm a scorer first. I may shoot 27 times. I may shoot 20 times. Nobody complains when I shoot 10 times. You don't hear ME complaining when I shoot 10 times. It just depends on the game, you know?"

Yes, but Kobe, according to ESPN research, you have the highest "usage rate" -- that's the number of possessions a player uses per 40 minutes -- in the NBA. In fact, your usage rate (38.9) would be the highest in the 3-point era of NBA--

--"Yeah," he says. "And I also have five rings."
Despite some dogged defending from the Blazers, Bryant scored 30 points on 13-for-24 shooting. It marked the second straight night he went over 30 points in scoring and it was just the second time this season he hit more than 50 percent of his field goal attempts.
After the game, Bryant shifted from defending himself to attack mode on his shot selection critics.
"Get over it," a clearly annoyed Bryant told reporters after a loss to the Trail Blazers in Portland. "Get over it. I shoot the ball that's what I do. I'm a shooting guard. Some nights I have 24 shots some nights I have 29 shots. Get over it."
Bryant is shooting 43.3 percent on the season, his lowest mark since 2004-2005.
CSNNW.com has video
of Bryant's exasperated statement.