By Matt Moore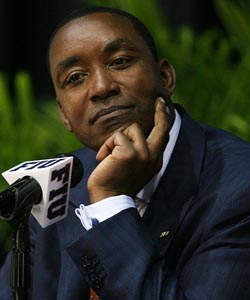 If
Knicks
fans want a reason to believe in the quality of the
Tyson Chandler
acquisition, look no further than Iasiah Thomas. Because he didn't like it. The
New York Post
reports:
Conveniently appearing on the Sid Rosenbug Show on Miami radio yesterday following the Knicks' 2-4 start, Thomas questioned Glen Grunwald's acquisition of Chandler, which forced the team to cut Chauncey Bilups to get under the salary cap.

Thomas said the NBA has become a guard's league, and the Knicks cannot win solely with a star-powered frontcourt of Chandler, Amar'e Stoudemire and Carmelo Anthony. The Chandler commitment cost them a shot at point guard Chris Paul with next summer's salary cap space, and Paul was subsequently dealt to the Clippers.

"The guard play right now in the NBA is off the charts,'' Thomas said. "Losing Chauncey, I thought he brought a veteran leadership to the team. His savviness and guard play has always been severely undervalued. Detroit found that out when they let Chauncey go. I think there was a certain amount of leadership to what he brought to [the Knicks] last year.''

...

"If you don't have great guards, it's hard to put together a game plan,'' Thomas said. "You're only as good a coach as your guards.''
via
Isiah Thomas, former Knicks president, not thrilled with Tyson Chandler acquisition - NYPOST.com
.
Thomas is right, here.
I know, I know. We're uncomfortable with that statement as well.
But it has less to do with the state of the league than D'Antoni says. The
Bulls
teams that ended the
Pistons
' run didn't have great point guards. Yes, they had the greatest shooting guard of all time, but calling Jordan a guard is like calling a T-Rex a lizard. Yes, it's technically true but you don't compare its danger level to a gecko. Furthermore, the
Lakers
' dynasty under Phil Jackson featured a star shooting guard, but also had
Derek Fisher
at point guard. Billups was always going to play point gaurd for the Knicks, and the shooting guard scoring load on the perimeter is held by Carmelo Anthony.
But the Knicks
do
need a point guard, because of their coach. D'Antoni is under heavy fire from fans and pundits right now, despite the fact that it's clear this is not the roster he would assemble if he had his choice. His system needs a playmaker. Anthony's only play is to score. It's not just
Steve Nash
. The Knicks looked more cohesive last year with
Raymond Felton
who is a huge downgrade from Nash offensively. It's like trying to run a car without an ignition system. So in that sense, Thomas is on target.
But here's where he's wrong.
Chandlr wasn't the wrong acquisition. Chandler has brought defense and a better attitude to the Knicks. He can change the course of a game and provides a defensive balance to D'Antoni's offensively-geared staff. Chandler is not the poor fit for the Knicks. Anthony is.
Anthony is a scoring wing. But even that's fine and great in D'Antoni's system. And he's a small forward, who next to
Amar'e Stoudemire
, could be great. But Anthony is primarily an isolation, off-the-drible shooter. He's a great rebounder, and that's a legitamate boost for the Knicks, but offensively, there's not much more of a worse fit for the Knicks an D'Antoni than Anthony.
Chandler wasn't where they went wrong. And keeping Billups wasn't a mistake, as he has passed the point where he can consistently contribute efficiently, and isn't a playmaking guard at this point. But the Knicks' design may have been damaged already... by Thomaz' involvement in the Anthony saga.