Posted by Ben Golliver.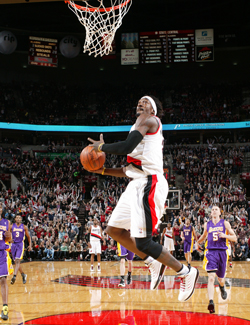 PORTLAND, Ore. -- Gerald Wallace has spent a full decade in the NBA now, overlooked and underrated, a favorite of basketball purists who never quite cracked into the "superstar" conversation despite two-way play and boundless energy matched by few.
It was fitting, then, that his signature performance as a member of the Portland Trail Blazers was obscured, for a half, by a television black hole that made the game unwatchable for virtually the entire country. The first game of TNT's doubleheader -- a short-handed Miami Heat team with just one of its "Big 3" active versus an Atlanta Hawks team that broadcaster Charles Barkley admitted he "couldn't stand" -- dragged into three overtimes, keeping the Blazers vs. Los Angeles Lakers nightcap off the air for the first two quarters.
By the time the nation was able to tune into the second half, Wallace already had 17 points, matching Lakers All-Star guard Kobe Bryant point-for-point for the first two frames. He was just getting started.

Wallace finished with a game-high 31 points plus five rebounds and two steals, and TNT managed to catch up just in time to air the highlight of his time in Portland, a tenure that began when he arrived in a trade with the Charlotte Bobcats at last year's trade deadline.
Halfway through the third quarter, Bryant missed a deep 3-point attempt with Wallace closing late to contest. Without stopping, Wallace leaked out behind the play, catching a well-timed pass from center Marcus Camby in stride. With none of the Lakers in pursuit, Wallace took a rare opportunity to add an unnecessary flourish, finishing the play with a windmill slam dunk that set the Rose Garden crowd into hysterics.
"I was down there by myself for about two minutes," Wallace joked afterwards. "I had time to get myself together and wake my legs up. I needed something to get the team off their feet. Get our defense going. I think that was a game-changer right there for us."
A game-changer for sure, the emotional key in a 32-18 third quarter that pushed Portland to a lead it wouldn't relinquish on its way to a 107-96 home victory.

"You've got to let Gerald go and allow him the freedom to play," Blazers coach Nate McMillan said. "His hustle, his energy -- we feed off of that, just scrapping and making plays, rebounding the ball, starting the break as well as finishing on the break. Then defensively, disrupting, coming up with some steals. We've been good when he plays like that."
With Bryant finding a shooting touch that has escaped him in recent games -- finishing 13-for-24 for 30 points -- Wallace did his best to harass him from first touch to follow-through, through screens and in transition. The effort earned Bryant's respect.
"I love Gerald. He's a high-energy player. He's really worked on his game. His outside shooting, his ball-handling. His defense. He's been a tremendous player. He's been kind of below the radar."
The Blazers now sit at 5-1, tops in the Western Conference despite depressed preseason expectations that had them on track for a lower-half playoff seed, at best, following the losses of guard Brandon Roy and center Greg Oden to ongoing knee issues. In their absence, Wallace has been the difference, as his pairing with new point guard Raymond Felton has combined to transform Portland from one of the slowest teams in the league for years to one of its fastest so far this season. On Thursday, Felton finished with a season-high 10 assists.
"They pushed the ball down our backs," Bryant said flatly.

Indeed, the pace was furious from the opening tip. The crowd played a big role in that, with both teams looking ready to go from the opening seconds. Crisp play matched the pre-game excitement. The lockout-shortened schedule reduced the number of Portland's home dates against Los Angeles to just one rather than the customary two. Because of that, this early season game had a "now or never" feel, with fans of both teams arriving well before the television-delayed tip and the decibel levels approaching triple digits multiple times.

"I tell you what, it seems like everybody has a rivalry against the Lakers," first-year Lakers coach Mike Brown said before the game, after maintaining for days that he wasn't aware of the level of passion Portland fans feel when the Lakers come to town.
Brown, like Phil Jackson before him, left Portland on Thursday night looking for answers. The Blazers, meanwhile, left with their eleventh win in their last 13 times hosting the Lakers.

"It drives me crazy," was all Bryant would say about L.A.'s continued struggles in the Northwest.
On a night when the first half was lost to television scheduling and the second half unfolded while most of the country was already asleep, we would all do well to heed the three words Brown kept repeating after the loss: "Give Portland credit."
Especially Wallace. He's gone plenty long without getting his fair share.