Posted by
Ben Golliver
.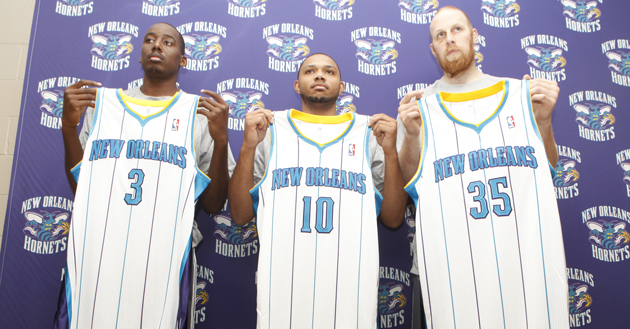 The Los Angeles
Clippers
took a major step towards rehabilitating their image as a second-class organization with a bad owner in Donald Sterling when they landed All-Star point guard
Chris Paul
in a preseason trade with the New Orleans
Hornets
. But the pieces moved in exchange for Paul have nothing but bad things to say about how the trade went down.
Yahoo Sports reports
that guard
Eric Gordon
and center
Chris Kaman
were both blindsided by the trade. Gordon says he was lied to by GM Neil Olshey and Clippers management and Kaman expressed disappointment that he wasn't treated more professionally after nearly a decade spent playing for the team.
"All you do is take the man's word and take that he said that no one is going to go anywhere," Gordon told Yahoo! Sports. "… To completely lie like that is something unprofessional."

Said Gordon: "They literally told me as an organization that they wanted to keep me, and [the trade still] went down?"

"He said, 'Hey, you got traded.' I was like, 'C'mon,' " Kaman said. "Then everyone started talking to me like, 'Hey, what happened?' I was like, 'I don't know.' Then my agent wasn't calling me. I couldn't get ahold of him. Then Farouq talked to his agent and said it was done. The Clippers didn't tell me anything. They didn't tell me I was traded or nothing after eight years. They didn't have the guts to come tell me they traded me."
In the hours after the Clippers/Hornets trade was finally consummated,
word spread
that Gordon found out about it while on a bus full of Clippers season ticketholders. At that point it was immediately clear that this trade would be met with hard feelings. Going from playing in a media mecca alongside
Blake Griffin
to a tenuous basketball outpost destined for the lottery was going to be a tough pill to swallow no matter what. Feeling like you were duped and deceived only makes the taste in the mouth that much worse.
If there's any defense of the Clippers on this one, it centers around the sheer lunacy of being involved in trade talks that include the league office and NBA commissioner David Stern. With Stern shutting down a 3-team trade proposal for Paul involving the Los Angeles
Lakers
and Houston
Rockets
prior to approving the Clippers' package, it's very possible that Olshey and company honestly believed there wouldn't be a major roster shake up. Trades develop quickly in the NBA and secrecy and expediency are valued commodities. It's unreasonable to expect a GM to break off of a trade call to phone one of his star plays to let him know, "Guess what? I might be trading you now." There's always time for fence-mending after the fact.
While the trade damage is done -- with Gordon and Kaman likely to get over it, at least mostly, with the help of the passage of time -- this episode becomes an important reminder for the Clippers. Producing a first-class basketball organization involves treating players -- past, present and future -- in a first-class manner and with consistent professionalism. Karma tends to govern behind-the-scenes dealings in the NBA and this sure looks like another strike in the negative column for Sterling and company.