Posted by
Ben Golliver
.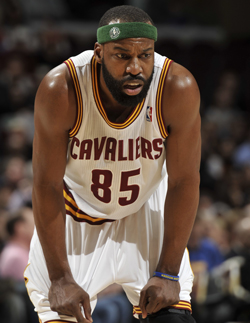 It's enough to make you squirm.
SBNation.com notes
that the
Charlotte Observer
made an embarrasing typographical error in its Wednesday morning edition, writing: "Ex-Charlotte Hornet
Baron Davis
signed with the
Knicks
after being cut by Cleveland under the amnesty clause. Davis is recovering from a herniated d*ck."
The Cleveland
Cavaliers
had hosted the Charlotte
Bobcats
on Tuesday night.
According to WebMD.com
, a "herniated disc" is a damaged bone in your spine that bulges or breaks open, causing back pain or numbness. That doesn't sound like too much fun. But a "herniated d*ck"? That sounds significantly, terrifyingly worse.
"Thanks Charlotte Observer for announcing my new injury," Davis
joked on Twitter
. "Still able to workout with it."
Davis then
added
: "That was a joke people. Excuse the person from the Observer who made a Typo... I was Just having fun. My Goldmember is not herniated."
Journalism site
Poynter.org reports
that the error was made during the editorial process.
Mike Persinger, the paper's executive sports editor, explained the origin of the error in a blog post today. He said the writer first described the injury as a "herniated disc." That made it past the first editor, but a second editor realized that isn't the way the paper spells this injury. So the editor attempted to change it to "herniated disk." Needless to say, things didn't work out that way.

There was no third editor in the process to catch the typo.
Here's an image
of the newspaper's error.
Davis has not yet suited up for the Knicks this season because of a back injury.