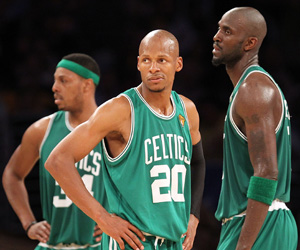 Posted by Royce Young
Ray Allen
is 36 years old. And he wants a new, multiple year contract.
Guess what though: It's not so crazy. Because last season at 35, he had maybe the best year of his career, finishing hitting 49.1 percent from 3. This year, he's off to an even better start averaging 20 points a game on 61.1 percent from deep. This is the final year of an extension he signed with Boston two years ago and he wants a new one.
Via Fox Sports Florida
:
Allen will be a free agent next summer. When asked if he wants to re-sign with the Celtics, he offered a quick, "Yeah." Does he think he can get another multi-year deal from them at 37?

"Yeah," said Allen, in the second-year of a two-year, $20 million contract. "That's what I want."
Obviously Allen likes his situation with the Celtics, but Boston will have to decide if it wants to commit once again to
Paul Pierce
, Allen and
Kevin Garnett
. Or do the Celtics want to start the process of tearing down the wall and rebuilding it. It's not necessarily a matter of Allen's production because the guy is still killing it at 36 and probably could do it at 46. It's just a matter of the direction of the Celtics, especially with them wanting to be players in the 2012 free agency market.
He wants to continue playing and whether it's with Boston or someone else, someone is going to pay him. Having a shooter of that caliber is always a good thing. And even if that's what Allen is as he gets older is a guy that plays for 10 minutes and shoots three open 3s, he has value to someone.
Via PBT