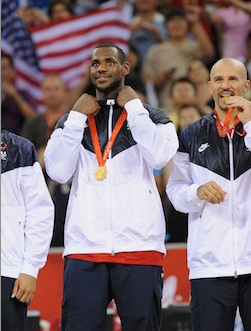 Posted by Royce Young
There has never been any doubt that the 1992 Olympic team dubbed the Dream Team, is the greatest collection of basketball talent ever. They completely steamrolled everyone in their way and were even inducted into the Basketball Hall of Fame.
And while there have been good American teams since, like 2008's Beijing roster or 1996's folllow-up team, there never has been a group quite like it. But
LeBron James
thinks the 20th anniversary team will compare.
Via Fox Sports Florida
:
"We can stack up with those guys," the Miami forward said.

[...]

"I agree," James said. "They set the standard for USA Basketball in '92 with all the great players they had. But we have some great ones as well. We have some Hall of Famers, some champions. So it's going to be a great (team)."
The only place you could ever find out is a video game, but here's an important note: The 2012 team has yet to win anything. And with the rest of the world pretty much caught up in talent with teams like Spain, France, Lithuania and others, awarding yourself a gold medal probably isn't the smartest thing. For the Americans to take home gold in London, they'll have to go through some good teams.
But for reference's sake, the Dream Team had Michael Jordan, Larry Bird, Magic Johnson, John Stockton, Karl Malone, Scottie Pippen, Patrick Ewing, Charles Barkley, David Robinson, Clyde Drexler, Christian Laettner and Chris Mullin. The 2012 roster isn't set, but will likely have LeBron, Kobe Bryant, Dwyane Wade, Kevin Durant, Derrick Rose, Blake Griffin, Chris Paul, Deron Williams, Dwight Howard, Kevin Love, Chris Bosh and a few others.
Do they "stack up" as LeBron says? Absolutely. In terms of pure talent, the 2012 has an abundance of it. It's hard comparing the past to the present, because it's difficult to get past the greatness of players like Larry Bird and Magic Johnson and realize that guys like Durant and LeBron have comparable talents. Still, the '92 Dream Team dominated the world. The 2012 team has yet to play an exhibition. Reminds me of some other supposed "dream team"...
Don't go giving yourself not one, not two, not three, not four, not five gold medals before you've even practiced, LeBron. I figured you'd learned your lesson on that.