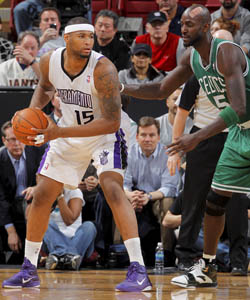 By Matt Moore
The Boston
Celtics
have been involved in a half-dozen trade rumors since the lockout ended. It's assumed that they're pursuing one of the 2012 top free agents, but it's also apparent that they're just looking towards the future after the Big 3 to build a core going forward.
Meanwhile, the
Kings
continue to clash with temperamental power forward
DeMarcus Cousins
, even as Cousins rejoined the team off the bench Tuesday night in a loss to Memphis. The Kings continue to insist they will not trade the fiery big man, but having openly said he's demanded a trade, they're going to get offers.
You see where this is going. From the
Boston Herald
:
The Celtics, like most teams, have called Sacramento to gauge what it would take to trade for DeMarcus Cousins. The young, disgruntled Kings center has been suspended from the team for his disagreements with coach Paul Westphal."It's highly unlikely," a league source said of the Celtics' chances of landing Cousins. "I'm not sure that any team is going to get him. The thing is that everyone knows he's a wreck. They're not going to get what he's worth."
via
Celtics plays it safe, sit hamstrung Jermaine O'Neal - BostonHerald.com
.
The Celtics make a ton of sense as a trade partner. They have expiring contracts of veterans who could help the young players on the Kings go forward while keeping the team's financial flexibility. But they lack any significant asset to lure the Kings into even talking about moving Cousins, which they're resisting anyway. The Celtics wouldn't want to part with
Rajon Rondo
without getting a player like
Tyreke Evans
back alongside Cousins, and that's too much for the Kings to surrender, despite their struggles this year.
But for the moment, enjoy the concept of
Kevin Garnett
sharing a locker room with DeMarcus Cousins. The word, I believe, is kaboom.