Posted by
Ben Golliver
.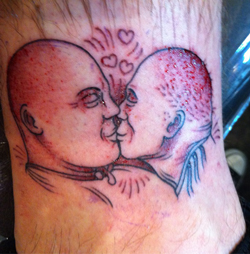 Sometimes a decision can be so wrong that it is right.
Ball Don't Lie notes
that NBA legend and TNT commentator Shaquille O'Neal recently joked that he would pay $1,000 to anyone who got a tattoo commemorating the famous kiss between Charles Barkley and Dick Bavetta. The Hall of Fame forward and NBA official puckered up after a footrace at
2007 NBA All-Star Weekend
.
Well, that tossaway line by O'Neal apparently caused someone to get the smooch inked on his body.
KEYT.com reports
that Emmet Bentle, a bartender in Santa Barbara, California, actually got the image tattooed on his ankle.
"Yeah, I'm hoping Shaq sees it, at least responds and if I get the one thousand dollars great, but if I don't its cool, just get my name out there, get my 15 minutes, you know," said Bentley.

Emmet signed up for Twitter over the weekend, in order to specifically post the picture. Now, he has more than 100 followers, but as of right now, no word from Shaq.
Here's
a larger picture of the tattoo
. The tattoo shows the two men kissing on the lips with hearts sprouting like flowers in the background. 15 minutes of fame; a lifetime of your ankle being "Where Amazing Happens."
Best worst execution of a good bad idea ever?
Hat tip: IAmAGM.com
.
Want to see more NBA tattoos? We've got you covered.