Posted by
Ben Golliver
.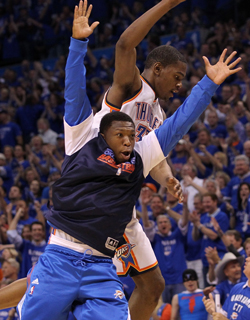 The NBA's diminutive dunk champion has found a new home in Northern California.
The Contra Costa Times reported
on Tuesday that 5-foot-9 guard Nate Robinson, a 3-time winner of the NBA's Slam Dunk Contest, is set to sign with the Golden State
Warriors
this week. Robinson reportedly could join coach Mark Jackson's team in time for a Friday night game against the
Lakers
in Los Angeles.
SI.com confirmed the move
, saying the deal will be worth approximately $1 million, pending a medical physical.
Update
:
InsideHoops.com reports
that the Warriors officially announced the signing on Wednesday, noting that Robinson will wear jersey No. 2 and will be available for the Lakers game on Friday. Contract terms were not released.
An explosive talent who brings athleticism and energy off the bench, Robinson, 27, has seen his career take an interesting swerve over the last year. He was traded by the Boston
Celtics
to the
Thunder
at last year's trade deadline, but barely played after the trade. Back in June, Robinson was
cited for public urination
and, during the lockout, he asked Seattle Seahawks coach Pete Carroll if he could
try out for the NFL team
. To make matters worse, former Celtics center Shaquille O'Neal
called out
Robinson in his recent autobiography for his antics and obsession with Twitter.
The buttoned-down Thunder simply had no use for distractions and, perhaps more importantly, no readily available minutes for Robinson. A loaded backcourt rotation, featuring All-Star
Russell Westbrook
, breakout sixth man
James Harden
,
Eric Maynor
, Thabo Sefalosha,
Daequan Cook
and the up-and-coming
Reggie Jackson
, led the team to
arrange a buy out
of Robinson's contract in December.
Golden State isn't exactly lacking in perimeter talent, either, but Robinson will definitely be able to find minutes in a reserve role. The Warriors currently have new aquisition
Brandon Rush
and rookies
Klay Thompson
and
Ish Smith
behind starters
Stephen Curry
and
Monta Ellis
. Robinson likely plugs in as the fourth guard then, assuming everyone is healthy. He could even step into the starting point guard role if Curry is sidelined due to injury by continuing ankle problems.
Robinson's career numbers: 11.3 points, 2.6 assists and 2.6 rebounds per game.