Posted by
Ben Golliver
.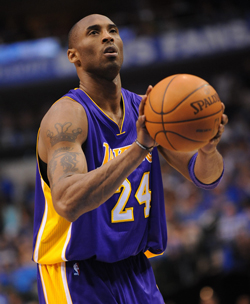 40-for-104.
That's what Los Angeles
Lakers
All-Star guard
Kobe Bryant
is shooting through five games, a figure that includes a 6-for-28 performance during a Sunday night loss to the Denver
Nuggets
and a 6-for-18 performance in a Saturday win over Denver.
Bryant is battling a torn wrist ligament, but
ESPNLA.com reports
that he is adamant that he's getting his shots, no matter what.
"I do what I do. If guys are open, I kick it to them, if they're not, I shoot it," Bryant said. "I play my game."

"We always start inside-out," Bryant said, when asked about Bynum and Pau Gasol's effectiveness on offense. "If you mean (to ask me) if I'm going to shoot less, the answer is no. It starts with me. I do what I do and we play off of that. That's not going to change."
One of the more remarkable NBA stats: Bryant has attempted at least 20 shots a game in 10 of the last 11 seasons, including each of the last seven. He's led the NBA in field goal attempts in four of the last six years and is
currently more than 2,000 attempts
ahead of
Kevin Garnett
, who is second on the field goal attempts list for active players. By the end of the 2012-2013 season, barring a debilitating injury, Bryant will be No. 3 on the all-time attempts list, passing former Chicago
Bulls
great Michael Jordan.
The numbers agree: Bryant couldn't be more correct in saying that he does what he does. He will shoot the ball, whether he's on a championship team or a non-contender, whether he's surrounded by stars or role players, whether it's fall, winter, spring or summer. He is, without argument, an all-time great when it comes to attempting shots.
The emergence of Lakers center
Andrew Bynum
,
which has been impressive
, won't change that. New Lakers coach Mike Brown isn't about to request a new approach from Bryant. The wrist injury is unlikely to change his approach; the only way it will limit Bryant if it keeps him off the court completely.
In an ideal world, one primed for offensive efficiency, Bryant would take either less shots or higher percentage shots. But that type of ideal world would also involve a time machine that brings back forward
Lamar Odom
from the Dallas
Mavericks
, where he was traded in a hurried salary dump after he expressed discontent when he found himself in trade rumors. With Odom gone, the temptation for Bryant, 33, to go into gun-first, gun-often mode is simply too powerful. Given the available fourth scoring options --
Metta World Peace
,
Steve Blake
-- it's tough to blame him.
Certainly, there's a threshold for shooting too much. Even though he's leading the league in attempts again, Bryant hasn't crossed the line. Here's the benchmark: as long as both Gasol and Bynum are hitting double-digits in attempts, and both have in every game they've played, Bryant gets as many shots as he wants, even if he's falling away, double-covered and dealing with a painful wrist injury that requires constant treatment.
If that prescription continues to produce performances like this weekend's, the change in strategy should come in how the injury is being managed -- i.e. force Bryant to take extended rest -- rather than how the offense is being executed or how the shots are being divvied up.