Posted by
Royce Young
and
Ben Golliver
.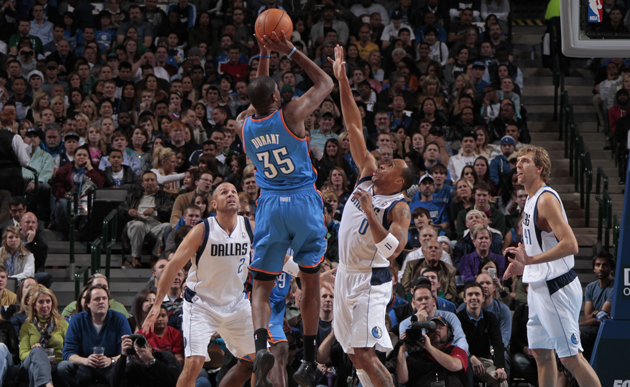 The 2011-2012 NBA season has officially entered 2012. With that comes the third installment of
CBSSports.com's NBA Power Rankings
by Eye On Basketball's Matt Moore.
What did he get right? What did he get wrong? We're here to break it down and take it down.
1. Too High: Oklahoma City Thunder at No. 1.
This week's Power Rankings made it through exactly zero spots before being completely wrong. Both Oklahoma City and Miami have one loss. OKC's loss is to the four-loss Dallas
Mavericks
, ranked No. 19 this week (No. 29 last week, don't think we forgot about that). Miami's loss was to one-loss Atlanta, ranked No. 4 this week. Sure, Miami lost to the
Hawks
at home, but they also did exactly what OKC couldn't: beat Dallas in Dallas, thumping the Mavericks on Christmas Day. OKC is dealing with reports of teammate-on-teammate verbal violence while Miami is humming along like a group of really, really athletic Boy Scouts. This one is indefensible. -- BG
2. Too Low: Miami Heat at No. 2.
Let's be clear: the Heat are not infallible. A
Dwyane Wade
foot injury and an awful 4-for-17 shooting night against the Hawks provide some consternation. But the body of work is absolutely there. The Heat are No. 4 in offensive efficiency and No. 9 in defensive efficiency, a ranking sure to rise. As it stands, both rankings are better than the Thunder. Pick an advanced statistic -- rebounding rate, true shooting percentage, turnover percentage and assist rate -- and Miami is better than Oklahoma City. South Florida, stand up. For the first time in years I have your back. -- BG
3. Most Overrated: Atlanta Hawks at No. 4.
They beat the Heat. Good for them. No seriously, good for them. But are the Hawks really a top four team? The same Hawks team that did virtually nothing except add
Tracy McGrady
and lose
Jamal Crawford
in the offseason. Let's keep our heads here on the Hawks. They're the same old Hawks that are just good enough to keep our attention but not quite good enough to actually be in the conversation. -- RY
4. Most Overlooked: Chicago Bulls at No. 3.
The lively debate over the No. 1 spot didn't include Chicago, and it probably should have. It's hard to be overlooked at No. 3 but I'd argue that's the case. Derrrick Rose had about as good of a game as you can have last Friday against
Chris Paul
and the Los Angeles
Clippers
, and it barely made waves, lost in the New Year's celebration. Chicago has been winning ugly and they didn't drop jaws throughout their Christmas Day victory over the Los Angeles
Lakers
in the same manner that Miami and Oklahoma City did. They're still smarting from that first impression a bit. With a 3-1 West coast road trip, they had the toughest schedule of the top-3 teams and they handled it in typically professional style. Look for Chicago to remain at No. 3 or higher for the foreseeable future. -- BG
5. Sure Thing: Washington Wizards at No. 30.
Holy crap, they are so bad. Monday's game in Boston was finally somewhat competitive, but it's simple:
John Wall
has to be excellent if the Wizards are going to compete. Right now, he's playing average basketball. With
Nick Young
,
JaVale McGee
,
Andray Blatche
and whoever else running with Wall, that roster isn't good enough to win unless Wall takes them to a higher level. They are the NBA's worst and there isn't a doubt about it. -- RY
6. Wild Card: San Antonio Spurs at No. 10.
The Spurs came out of the gates working people over like their old selves. They looked to be well on their way to another year of everyone doubting them while they just owned the West. Except after a dominant 2-0 start, the Spurs have dropped games to Houston and the Wolves, while not being all that competitive in either games. Plus,
Manu Ginobili
broke his hands. The Spurs could be a top five team, but they could also fall way past that. -- RY