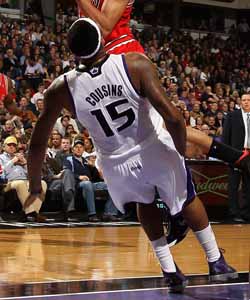 By Matt Moore
Update (9:45 p.m.):
Cousins issued a statement via his agent
and SI.com has the details
. "I want to address my missing the New Orleans game Sunday. I have not demanded or requested a trade. I don't agree with the actions taken but will give my sincere effort to put it behind me and compete the best I can for my team."
In other words, this isn't over. Not by a long shot.
*******
As the fallout from the
Kings
sending
DeMarcus Cousins
home following what Paul Westphal
publicly described as a trade demand continues
, teams are circling even as the Kings continue to say they are not trading the volatile young big man.
SI.com reports that the
Nets
have expressed interest
, and the
Washinton Post
says the
Wizards
have called to inquire
about pairing Cousins with his Kentucky teammate
John Wall
in Washington. Both teams believe the Kings are following through on their refusal to trade him.
In the same vein,
Yahoo Sports reports
that Cousins is going to joing the team on its road trip, effectively ending his suspension-that-isn't-a-suspension, or his grounding, or whatever.
If the Kings aren't going to trade him, and they were going to let him back on the team, then why announce to the world his situation? Westphal actually took a measured approach Sunday, saying that the reason was because one way or another the media would be asking about it. Still, it seems like throwing Cousins under the bus for very little gain. Expect the Kings to continue to receive offers, albeit low ones, to try and get the talented powder keg.