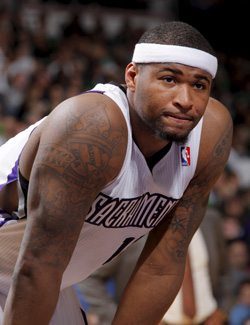 Posted by Royce Young
DeMarcus Cousins
has always had a tag on him: immature. But that's often giving Cousins the benefit of the doubt. Because some might feel the right word is "head-case." One of those people might be
Kings
coach Paul Westphal.
The Kings released a surprising statement from Westphal regarding Cousins saying point blank that the young big man has demanded a trade. And as a result, Cousins has been told to stay home and won't be playing against the
Hornets
Sunday night.
"Whenever a new season begins, in any sport, there is great hope that everything will progress in only a steady, upward direction. As we all know, it seldom happens like that in this life! As coaches, we can only ask that our players do everything they can to improve themselves as individuals and teammates.

If they do this with all their hearts, we live with the results. Everything that happens on a team does not become known to the public. This is how it should be. However, when a player continually, aggressively, lets it be known that he is unwilling/unable to embrace traveling in the same direction as his team, it cannot be ignored indefinitely. DeMarcus Cousins has demanded to be traded.

In the best interest of our team as we go forward, he has been directed by me, with the support of management, to stay home from the New Orleans game tonight."
Here's the odd thing:
Cousins' agent John Greig tells SI.com it isn't true
.
"DeMarcus never demanded a trade. I'm surprised the Kings, if they believe the player wanted a trade, wouldn't have made a phone call to his representative. Maybe Westphal is just feeling the
Heat
early this season."
I'm trying to infer from Westphal's comments and Greig's subsequent denial, but maybe Westphal is saying Cousins has demanded a trade with his actions. Or that Westphal has demanded that Cousins demand a trade. A "him or me" approach.
This comes after Cousins was asked recently about the Kings offense and he quipped, "What offense?" which is obviously a jab at Westphal. Cousins also took to Twitter late Sunday and refuted it as well.

Westphal has battled with Cousins since the Kings drafted him in 2010. Last season,
Cousins was suspended by the team
for an altercation with
Donte Greene
,
he's been ejected
and he's
mocked opponents for choking
only to get benched for it. The guy hasn't had a smooth run so far in the NBA.

Cousins has a tattoo on his leg that says "misunderstood.
" Red flag! He constantly feels like he's being picked on, singled out. And it seems that it's either going to be him or Westphal that goes in Sacramento. Because the two can't co-exist. What the Kings are going through is what so many team anticipated before the draft in 2010. Most felt that Cousins probably was the most talented player out there, except he might be a problem child. Which it appears he is.