Posted by
Ben Golliver
.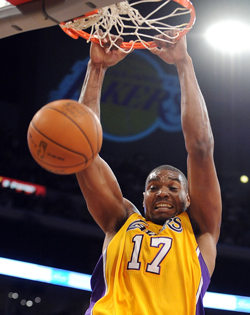 THEORY: Los Angeles Lakers center Andrew Bynum is a prime candidate for a slow start in a lockout and suspension-shortened season.PROOF: 29 points, 13 rebounds, 2 blocks, 1 assist, 1 steal, 13-for-18 shooting in 32 minutes in his debut against the Denver Nuggets. Not exactly what we expected.
The last time we saw Los Angeles Lakers center Andrew Bynum in an NBA game, he had stripped himself half-naked in frustration after getting ejected for
delivering a dirty, dangerous
hit on Dallas
Mavericks
guard J.J. Barea.
That day marked the beginning of what would be a long lockout for Bynum, who has dealt with questions about his maturity, his health, his conditioning and his potential use as a trade chip for seven months.
From the outside looking in, there were reasons galore to expect a slow, sloppy start from Bynum. While fully healthy for the first time entering a season in a few years, Bynum was suspended for the season's first four games due to the hit on Barea, meaning he lacked the first week conditioning ramp up afforded everyone else. He was away from the professional game for seven months, given a two-week period of training camp and preseason and then forced to wait as everyone around him -- teammates and opponents -- continued to progress.
That's just the tip of iceberg. Bynum is dealing with a new coach, Mike Brown, and his new systems. He's dealing with a new rotation surrounding him that lacks forward
Lamar Odom
, dumped in a trade to the Mavericks. He's playing with the knowledge that his front office nearly blew up the roster to acquire point guard
Chris Paul
in trade and knowing that he is the No. 1 most desired chip if and when Orlando
Magic
GM Otis Smith bites the bullet and moves All-Star center
Dwight Howard
. Of course, Bynum is also dealing with continued scrutiny of his offcourt behavior, which includes
a number of recent traffic citations
and an embarrasing incident in which he was caught parking in a
handicapped spot
while grocery shopping.
To complicate things even further, Bynum was set to make his debut against the league's fastest team and highest-octane offense. The Denver Nuggets entered Staples Center on Saturday ranked No. 1 in pace and No. 2 in offensive efficiency. The Lakers, with questions about their lack of depth abounding, were facing a team that lacks top-end starpower but easily goes nine or 10 players deep to continually apply pressure and one that has two big men -- Nene Hilario and
Timofey Mozgov
-- to bang with Bynum.
But Bynum emerged -- from the layoff, the conditioning questions, the offcourt distractions and the challenging opponent -- as the player of the game on Saturday. He might not be the sole reason this game slowed down and got ugly, allowing the Lakers to eek out a 92-89 win in the game's closing seconds, but he was a big one.
17 of Bynum's 18 field goal attempts came in the paint. Five baskets came on follows or putbacks; 6 of Bynum's 13 rebounds were offensive. He helped L.A. win the points in the paint battle, 46-32, and he managed to stay out of foul trouble throughout. Bynum finished with 29 points, a number he has topped only once in the regular season, a career-high 42 points against the
Clippers
in January 2009 and he's only attempted 18 shots in a regular season game three other times in his career. Bynum scored L.A.'s first six points -- finishing with 10 in the first quarter -- delivering time-and-again as his team clearly looked to establish him early.
But the defining sequence came late, not early. With just under two minutes to play, the game tied at 89, Bynum swooped in to block a layup attempt by Nene, a swat that quickly led the other way in transition for the Lakers. Bynum sprinted -- have we ever seen him move this fast? -- to the other basket, collecting a pass from
Derek Fisher
and smoothly converting a layup to put the Lakers up for good. That bucket provided a leading margin that stood despite two long misses, a turnover and a missed free throw attempt from
Kobe Bryant
in the final two minutes.
The win pushes L.A. above .500, to 3-2, and Bynum's starring role buoys the spirits in Tinseltown, where the trade rumors, the rise of the Clippers and an injured wrist for Bryant have led to a lot of anxiety. Bynum's addition takes much needed pressure off of Bryant and provides insurance against inconsistency from
Pau Gasol
. The team's three-headed monster is back and looking, for a day, like it never left.
This season debut should help put to bed a lot of the lockout ghosts -- or illusions of ghosts -- for L.A.'s big man. Bynum now must turn his attention to the same problem facing every NBA player: finding a way to make a similar impact, night after night after night, in a compressed schedule that does its players, particularly the big guys, no favors.