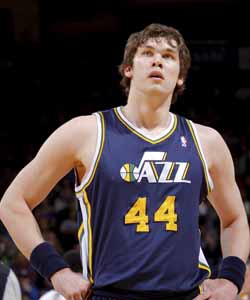 By Matt Moore
Kyrylo Fesenko
is still a free agent. Now, most players who are still free agents at this point are insignificant, and Fesenko isn't going to be winning any MVP awards for anyone this season. But he's a young, capable big who can provide another body down low and has both scoring and rebounding ability, even if it's (serverely) limited. In a season as stacked as this, every big counts.
So where's he going to end up? A deal with the
Warriors
fell through earlier this week and now ESPN.com reports that Fesenko is now leaning towards Dallas, who could certainly use the help.
The Dallas Mavericks are back in the mix to land free-agent center Kyrylo Fesenko after the Golden State Warriors passed on the Ukranian big man, according to sources close to the situation.

Fesenko had committed to signing with the Warriors earlier this week, but sources told ESPN.com that Golden State and Fesenko "mutally" canceled their plans to finalize a one-year deal worth just under $1.1 million, in part because Fesenko needs an additional week or two to get into game shape after September knee surgery.

Sources said Fesenko is now leaning toward accepting the Mavs' one-year minimum offer and is likely to make a decision by early next week.
via
Sources: Mavericks back in mix for Fesenko - Dallas Mavericks Blog - ESPN Dallas
.
Interestingly, even after Chandler's departure, play down low hasn't been the problem for Dallas.
Brendan Haywood
has played at least admirably,
Ian Mahinmi
has had good stretches, and
Sean Williams
has even contributed with energy and rebounding. So Fesenko's not going to be of a huge help to them, but with the injury history of both Haywood and Mahinmi, it's still a need. And at this point, the Mavericks need all the help they can get.
Fesenko averaged just 2 points and 2 boards in 8 minutes last season.