Posted by
Ben Golliver
.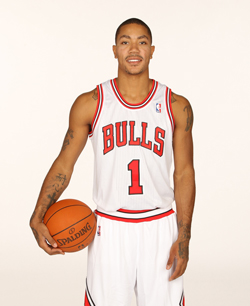 Derrick Rose
, the NBA's reigning MVP, reportedly could be in line for a quarter billion dollar shoe deal. Yes, billion with a "B".
ESPN.com reports
that the Chicago
Bulls
point guard could make as much as $250 million in endorsement money from athletic apparel manufacturer adidas.
One industry source insisted to ESPN.com this week that Rose's new shoe deal with adidas will easily crack nine figures and could legitimately approach the $250 million range -- as in $25 million annually over a 10-year span -- in what is known in the shoe game as a "lifetime" deal.

How can the reigning MVP possibly command those kind of dollars as a shoe endorser? Here's how: Rose, as it was explained to me, is adidas' only counter to Kobe Bryant in China. I'm told Rose already outsells LeBron James there.
Shoe endorsement deal specifics are notoriously difficult to pin down and verify. But, at $10 million per year or $25 million per year, Rose would be in a salary range rarely, if ever, broached by professional basketball players.
For comparison's sake, Miami
Heat
All-Star forward LeBron James signed a 7-year, $93 million shoe deal in May 2003,
according to CNBC.com
. He re-upped with Nike in 2010 but terms of that deal were not disclosed. Heat All-Star guard
Dwyane Wade
reportedly made roughly $10 million per year in shoe endorsement money in a 2005 deal,
according to BusinessWeek.com
. Former Philadelphia
76ers
guard
Allen Iverson
's lifetime contract with Reebok was reportedly worth $50 million over 10 years,
according to AskMen.com
.
Rose, 23, signed
a 5-year, $94 million extension
with the Bulls earlier this month.
Rose
recently starred in an adidas spot
where he dodged Spanish bullfighters to slam dunk a basketball in a bull ring.