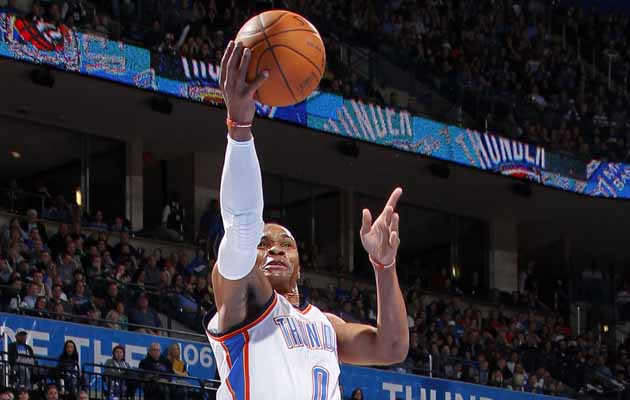 By Matt Moore


The
Knicks
wilt again out West, the
Thunder
rise and fire, and the Blazers win the best game of the night. Here's your nightly report card.
One day removed from a horrid shooting performance in a near-loss and after a brief altercation with
Kevin Durant
that subsequently became the biggest story in the league for a day, Russell Westbrook
brought the
Thunder back. He made all the plays late starting with a dunk and-one off a steal. He hit big shots when he needed to and grabbed a huge offensive rebound off a Durant miss late. It was a terrific job by a player with a lot of pressure on him, and showed why the Thunder believe he and Durant can be special together.
Westbrook isn't the pure point a lot of people think Durant needs. But in terms of scoring point guards, he's one of the best in the league. His fearlessness and ability to make things happen in key moments should not be overshadowed by a handful of poor shooting nights for the young player. Westbrook is a legitimate star who plays on the same stage, if not level, as Kevin Durant.
A: Los Angeles Lakers
Ball movement. Help defense. Efficiency. The Lakers
won with good basketball
. Not superstar power, though
Pau Gasol
played well. They weren't pretty or fun to watch, they just worked to create open shots and knocked them down. Even when the Lakers were losing earlier this week, they had great effort, just poor execution. Against the Knicks, they really turned the effort into execution and simply played better basketball against what is arguably a more talented team in terms of star power.
The
Spurs
didn't have it, but the Rockets
also never allowed them to find it Thursday night
. The Rockets ran efficient offense over and over, getting contributions from their key guys and really attacked the Spurs inside with
Samuel Dalembert
. It was a key win after a disappointing opener against the
Magic
.
Kevin Martin
stopped being terrible and went back to Kevin-Martin-hood.
They won against a very good
Nuggets
team and kept their hot streak alive. They shot 51 perent from the field. They also turned the ball over 25 times and let the Nuggets back in it after a huge initial rush. They lost the free throw battle. In reality, they had a hot night, shooting 51 percent from the field. They also played solid defense, if allowing a number of open looks. These two teams are evenly matched and the Blazers edged them. Room for improvement, but they get a B.
The Mavericks got a number of things to go their way in this game, and also played much better. The ball movement was there, Dirk was resurrected from lockout hibernation (29 and 10), JET was firing, and
Ian Mahinmi
and
Brendan Haywood
played well inside. But their defense was still several steps off of last year, and for crying out loud, the only guy in the building you have to guard with 1.4 seconds left and you give him a look? Better, Mavericks. Not good.
Dirk nabbed a technical for complaining about a call in the fourth quarter. Was just a terrible time for that kind of a tech.
D: New Jersey Nets
Missing
Brook Lopez
? Sure.
But the effort isn't there
, from any of the players. How exactly are you going to convince Dwight to come there by getting killed by him?
F: New York Knicks
Carmelo Anthony
, point forward is not walking through that door. Carmelo Anthony, ball-stopping shooter is. Both Anthony and Stoudemire struggled mightily against a Lakers defense that attacked their dribble whenever they got the ball. The Knicks have no creator, no initiator, no playmaker, just bullets and no gun. Oh, and defensively?
Renaldo Balkman
spent the most time guarding
Kobe Bryant
. Whoever had that idea needs to spend some time reconsidering the way he approaches the world.
Incomplete: San Antonio Spurs
Back-to-back, but after two really solid defensive games the Spurs took a giant step backwards Thursday night.
E for Effort: Orlando Magic
It's not hard to beat the Nets. But the Magic are firing on all cylinders right now.
Dwight Howard
with 24 rebounds,
Ryan Anderson
22 points. The Magic are still a good team in the middle of all the turmoil. Again, against the Nets. But still.
Gold Stars:
Dirk Nowitzki.
Jason Terry
,
Serge Ibaka
.
Steve Blake
. Pau Gasol.
Josh McRoberts
,
Luis Scola
. Jimmer.
Wesley Matthews
.