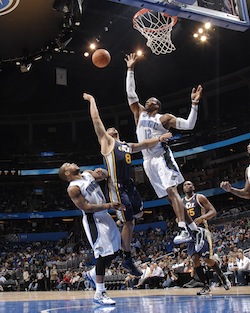 Posted by Royce Young
Dwight Howard
needs to get traded soon. Because otherwise, we're all going to have to take note of his eating habits, among other things.
Via the Star Ledger
, Howard told reporters that he had dinner in New Jersey with
Deron Williams
when the
Magic
came to town to play the
Nets
. Why is that at all something we should care about? Well, because of that whole thing where Williams wants Howard to come to the Nets and the whole thing about Howard maybe wanting to go to the Nets.
You're telling me Williams and Howard didn't talk about that stuff over some food? They didn't talk about their future plans? That's why this is a story, despite it completely not being a story. If that makes sense.
Howard tried to downplay it though.
"Since he's been in the league, every time he comes to town, we go eat dinner and just kick it,'' Howard said after the Magic's shootaround. "We've been friends since the Olympics, and so we go out to eat, have a bite.
"[Williams] wanted to be silly and joke about it, but I said 'No, this is not the time. Let's just go eat, and then go have a good game against each other tomorrow.' That's it," Howard said.
Williams on the other hand wasn't sure how to handle the situation. When asked, he answered, "I don't even know -- I really don't."
Understandable. I could see how you could be unsure of whether or not you had dinner with a 6-11 man with giant shoulders the night before.
If you recall though, there was quite the stink about a supposed meeting the Nets had with Howard right before the end of the lockout. The Magic reportedly were going to file tampering charges, but Howard adamently denied the report, as well as the Nets. Dinner among friends is legal though.
I guess the big question is, what did they have? If it was steaks, that's a Brooklyn thing, right? Seafood would hint towards Orlando, no? We need these details.