Posted by
Ben Golliver
.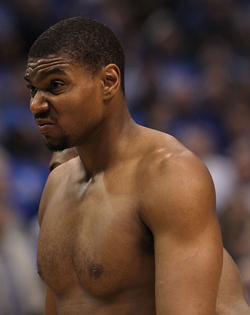 It's time to hire a chaffeur.
Los Angeles
Lakers
center
Andrew Bynum
is involved in another legal mess related to his operation of a motor vehicle.
TMZ.com reports
that Bynum was hit with two traffic tickets this week for
Law enforcement sources tell TMZ ... Bynum was pulled over Tuesday for driving without a license plate and having illegally tinted tail lights. Bynum walked away with a fix-it ticket. But it was not lesson learned, because today Bynum was pulled over in his Porsche 911 on the freeway for going over 80 mph. Bynum was cited and released.
Bynum, 24, set off a firestorm of controversy back in July when he allegedly
parked in a handicapped spot
while grocery shopping. In November 2010, Bynum was
pulled over
for driving his Ferrarri for going 110 miles per hour in a 55 mile per hour zone.
Bynum is currently serving a suspension for
laying a dirty hit
on Dallas
Mavericks
guard J.J. Barea during the playoffs. That suspension was
reduced to four games
earlier this week. He will therefore be available to make his season debut on Saturday against the Denver
Nuggets
at Staples Center. Consider that your early traffic advisory if you're planning to attend the game or visit downtown L.A. this weekend.
Now in his seventh NBA season, Bynum, when healthy, is one of the NBA's most talented pivotmen. He averaged 11.3 points, 9.4 rebounds and 2.0 blocks per game last season.