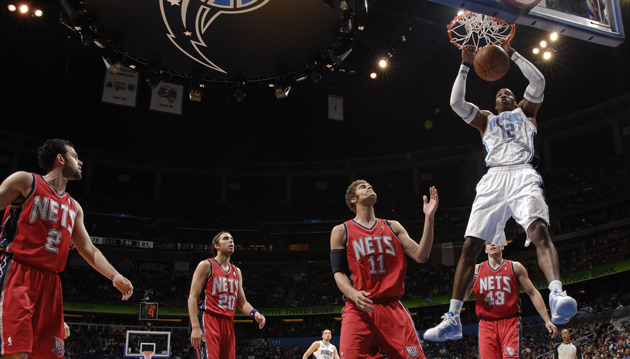 By Matt Moore
There is a fairly established path to rebuilding. When a team is forced to start over, the way back to contention is to trade the biggest star along with a salary dump for as many young players and draft picks as possible. Then you rebuild through the draft using the picks you acquired and your own picks, which are high on account of you being terrible. This is a fairly proven formula, with the Blazers having had success before injuries wrecked them, and the
Thunder
currently a Finals contender with that model.
Which is why today's report from ESPN.com should be concerning for
Magic
's fans and is confusing for the rest of us. From ESPN:
Sources familiar with Orlando's thinking say that a picture of what the Magic will ultimately expect in return for their anchor has indeed begun to emerge, telling ESPN.com this week that Orlando would not hold out for youth and draft picks as the league-owned New Orleans Hornets were ordered to do in the Chris Paul sweepstakes. The Magic, sources say, would instead prefer to bring back multiple established veterans who can keep the team competitive.

Reason being: Orlando has moved into a new arena last season and has a 85-year-old owner in Rich De Vos. Sources say De Vos has little interest in starting over/rebuilding, as evidenced by the recent decisions to trade for Glen "Big Baby" Davis and re-sign Jason Richardson even though Howard's future is so murky.
via
What will Magic want for Dwight? - TrueHoop Blog - ESPN
. So the Magic are looking at that well-established path back to contention... and wanting to do the exact opposite. The problem is that the Magic would not and cannot get anything back that is comparable to Howard, so they'd be looking at either an aging star, or someone overpaid. Which means problems for the Magic in a few years when those contracts get larger and the talent isn't there. It seems like a cash grab for tickets in order to make casual fans go to games instead of really building towards a championship which perennial season ticket holders and long-term fans would want.
There are several repercussions if this report is accurate.
1. It puts the
Lakers
squarely in the lead for Howard. If you want established All-Star-level players, the Lakers have them. A package of
Pau Gasol
and
Andrew Bynum
, which the Lakers
insist they will not send for Howard
, would fit this bill exactly. Even if they won't trade those two for Howard directly, the best scenario might be to bring Houston back into talks similar to what they were working on in the vetoed Chris Paul trade. That could net the Lakers a suitable replacement for Gasol in terms of firepower, provide Orlando with an All-Star power forward (Gasol) and the
Rockets
a franchise center of the future. Either way, if it's stars the Magic wants, the Lakers have them.
2. It severely damages the
Nets
' approach. Already missing their best trade chip in
Brook Lopez
due to a broken bone in the foot, the Nets have reportedly been dangling as many as five first-round picks for Howard. If the Magic want legitimate players, the Nets don't have any outside of
Deron Williams
. Their next best chip,
Kris Humphries
, cannot be traded until March due to his contract. If the Magic are serious about continuing to contend for the playoffs, the Nets can kiss their chances at Howard goodbye. In related news, the Nets were wiped off the map by the
Hawks
last night.
3. Speaking of the Hawks, ESPN says the Hawks have made offers regarding a possible trade of
Joe Johnson
and
Josh Smith
for Howard. This would be a genius move by Atlanta, even if Howard doesn't re-commit to signing there. You make one playoff run, clear Joe Johnson's cap-killing contract, and if Howard decides to leave, you've got cap space to rebuild with behind
Jeff Teague
and
Al Horford
. The immediate question mark is if the Magic would be willing to take on Joe Johnson's contract. Remember, if the Hawks want All-Stars, they have to take on big contracts, and Johnson's a multiple-time All-Star, even if his notoriety isn't on part with that accomplishment. Also keep in mind that Otis Smith traded for Gilbert Arenas and
Hedo Turkoglu
last season. Big bad contracts do not scare the man. Still, the Haws are clearly on the outside of this race.
The Magic should be following the same pattern New Orleans did with the trade it actually pulled off. There's a reason the league vetoed the Chris Paul trade offer form the Lakers, and it wasn't because they all of a sudden hate their most popular team. It's because adding big contracts for lesser stars only compounds your situation and sticks you in NBA purgatory: late playoff seeds leading to first-round exits and no traction. That hurts every facet, competitiveness, ticket sales, enthusiasm, morale eventually. But if this is what the Magic want, they're in a position to wait until the trade deadline to get as much as they can. They don't want to start over, they just want to stay in the conversation.