Posted by
Ben Golliver
.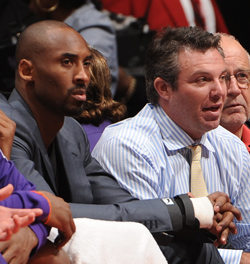 Los Angeles
Lakers
All-Star guard
Kobe Bryant
admits that he is hurting.
Yahoo Sports reports
that Bryant is managing constant pain thanks to a torn tendon in his shooting wrist.
"It hurts more when I fall on it with the impact below the wrist," he said. "When I fall and hit the ground, that's when I feel it the most."

"It swells daily, it's painful daily," he said. "I try to stay on top of it as much as I can."
The wrist injury caused Bryant to sit the Lakers' second preseason game against the Los Angeles
Clippers
and has caused an up-and-down start to the 2011-2012 regular season. He's been forced to play with a protective sleeve covering his shooting arm from elbow to wrist, which is no small matter.
Bryant shot a combined 21-for-47 in losses to the Chicago
Bulls
and Sacramento
Kings
; he committed
a costly late-game turnover
and had a potential game-winning shot blocked at the buzzer during the Christmas Day loss to the Bulls.
Bryant, 33, has cultivated a reputation as a warrior and has backed that up by being one of the NBA's most durable superstars. In the last six seasons, he's missed just 16 regular season games combined.
He's a gamer, there's no question, but he probably feels like he doesn't have much choice here, as the Lakers have no readily available other options. Even with one arm in a cast tied behind his back, Bryant is far and away the best option because L.A.'s other available backcourt depth includes reserve point guard
Steve Blake
and rookies
Andrew Goudelock
and
Darius Morris
.
In other words, the pain will go on.