Posted by Royce Young and Ben Golliver.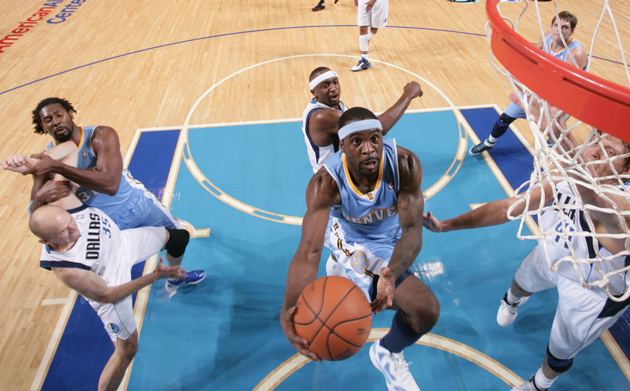 The 2011-2012 NBA season is a few days old, and with that comes the second installment of
CBSSports.com's NBA Power Rankings
by Eye On Basketball's Matt Moore.
What did he get right? What did he get wrong? We're here to break it down and take it down.


1. Too High: Denver Nuggets at No. 2
. I realize it's easy to get excited about the Nuggets. They whipped the defending champs in their opener. But after
one game
we're moving them all the way to No. 2? After one game, they jump 12 spots? I think it's probably more overrating the Mavs than it is the Nuggets, because Denver's win over Dallas wasn't
that
impressive. The Mavs are uninterested, unmotivated and unhungry (is that a word?) right now. They're coasting. And they probably aren't even as good as they were last year. Yeah the Nuggets looked good in their takedown of the Dirks, but geez, I think we're getting a little ahead of ourselves here in having Denver jump Oklahoma City, San Antonio and the
Clippers
. -- RY


2. Too Low: Los Angeles Lakers at No. 23
Just when Royce got done scolding for over-correcting on the Nuggets, there's the Lakers, who dropped 18 spots by virtue of losing a tight one to No. 6 ranked Chicago on Christmas under bizarre late-game circumstances and getting picked off by a hungry
Kings
team on the second night of the back-to-back. That places Kobe/Pau/company
six
spots behind the Toronto
Raptors
and
seven
spots behind the Charlotte
Bobcats
. Come on. Maybe the last five years or so should have a touch more bearing than the last 48 hours in weighing the relative merits of these organizations. -- BG
3. Most Overrated: New York Knicks at No. 5
. The Knicks took down a wounded
Celtics
team at home on opening day. They looked solid at times, sure. But is this New York team truly in the class of the NBA? Is it
really
top five material, with point guards named
Toney Douglas
and... Toney Douglas? (OK, so I know
Mike Bibby
is on the team too, but he doesn't count.) The Knicks are a quality squad but there's a burning desire in many to crown them a contender, but I think that's premature. -- RY


4. Most Overlooked: Minnesota Timberwolves at No. 26
. I feel like I'm getting ahead of myself here, but after watching the Wolves compete against the top-notch
Thunder
, I came away impressed. Rick Adelman has made a difference,
Ricky Rubio
is fun and between
Derrick Williams
and
Kevin Love
, there's some real talent there. Minnesota hasn't necessarily done anything to deserve being higher than 26 because you need to actually win to move up. Moral victories don't count. But fourth to last? This Wolves team won't be in the bottom five for long. -- RY


5. Sure Thing: Miami Heat at No. 1.
Miami looked so good in routing the Dallas
Mavericks
on Christmas Day that the general reaction around the league seemed to be to just pretend it didn't happen. Outside of the Oklahoma City Thunder, it's difficult to imagine any NBA team being able to keep pace in a 7-game series,
Bulls
, Celtics, Clippers and Lakers included. Here's hoping Miami keeps its foot on the gas all season long. The Hated Ones can do some amazing things. -- BG


6. Wild Card: Houston Rockets at No. 25
. The middle-of-the-pack Western Conference teams are likely headed for a rollercoaster ride on this year's power rankings, and Houston probably gets to be the first poster boy for that phenomenon here. They start near the gutter but still have enough talent to work their way into the top-15 in fairly short order. But would you bet your money on it happening? -- BG