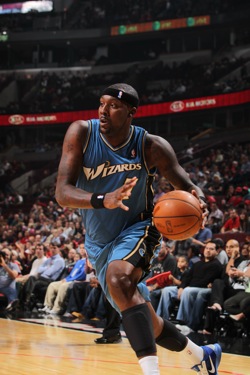 Posted by Royce Young
There's a fine line between headcase and immature.
Andray Blatche
has been pushing those limits for a while now.
He's gotten in fights
,
said dumb things
and played lazy basketball. But now he's calling out his coach.
After the
Wizards
blew a massive lead to the
Nets
Monday night, coach Flip Saunders commented on a few things that Blatche took personally. So Blatche volleyed back.
"I said that I need the ball in the paint to be effective. You can't keep having me pick and pop and shooting jump shots. Give me the ball in the paint," Blatche told
The Washington Post
. "That's what I'm most effective at. I've been saying that since training camp -- I need the ball in the paint. I don't want to be the pick and pop guy that I used to be. Because it's not working for me. I'm not saying the offense has to flow through me, but I prefer to be in the paint."
He reaffirmed those thoughts on Twitter after the game too,
tweeting
, "I may have had a bad game but that's cause I need the ball in the post not taking jump shots all game."
He also then tried to
defend himself and his comments
: "Every body need to shut up I didn't call out my coach or team mates I said I had a bad game need it n the post instead of jump shots."
Blatche's opening night output: 11 points, eight rebounds.
Kris Humphries
, who Blatche was primarily assigned to, had 21 and 16.
It's been one game and Blatche is already spouting off to the media. I bet Flip Saunders is thankful this season is only 66 games.
Nick Young
came to Blatche's defense, sort of, saying, "Dray's trying to be a leader this year, and sometimes he lets things get to him. You've got to let things bounce quick and get back in the game. I say he's going to learn from this game."
I think that's a nice way of saying, "I told Andray to zip it after the game."
As Michael Lee of the Washington Post ironically points out, Blatche was actually suspended for two games for complaining about having to play in the low block too much. Guy just doesn't know what he wants.
He also doesn't realize he's wasting a heap of talent. For a time, when he was looking for a new contract, Blatche showed off his ability. The last few months of 2010 he played like an All-Star. He's a good player when it all comes together.
But sometimes that doesn't matter when it's not all clicking between the ears. I think Blatche wants to be good. He wants to win. He just doesn't know how. The Wizards are a dysfunctional mess with raw talent and immature youngsters. Flip Saunders has his hands full.