Posted by Royce Young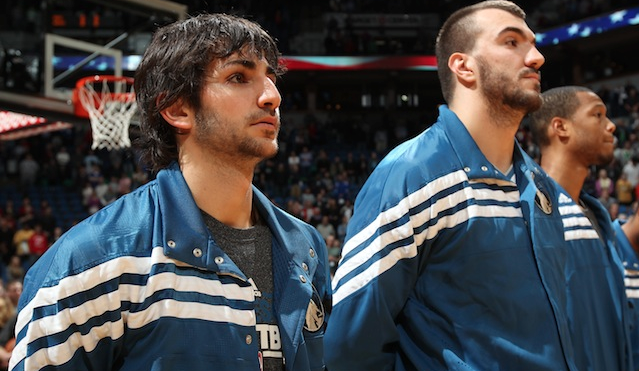 THE THEORY: Ricky Rubio won't make a big NBA impactTHE PROOF: Rubio dazzles in NBA debut against Oklahoma City
Once people got past the fact that they were actually looking at Ricky Rubio in the flesh in the NBA, which I'm still not entirely sure I believe, Rubio showed off why people were so fascinated by him.
First game for Rubio: Six points, six assists, five rebounds and zero turnovers in 26 minutes. Keep in mind, this was his
first
NBA game ever, against an All-Star point guard in
Russell Westbrook
. And he dazzled. He dominated the game offensively every second he was in. When the ball was in his hands, he had complete control of everything and presented a threat no matter where he was.
His team lost 104-100 to a great Oklahoma City team, but Rubio proved a point: He can play.
I've been a big doubter of his
, but Monday's game was a great example of how dynamic he can be. He was a truly dangerous offensive weapon despite not being much of a threat to score. When he had the ball, it was terrifying for
Thunder
fans because you could just feel a perfectly threaded bounce pass coming at any second. Honestly, I'm guessing here but I think probably 80 percent of his passes were bounced. Nobody does it that much, not even
Steve Nash
. It's unconventional and something NBA defenders aren't ready for.
He's truly a passing virtuoso. He no-looks everything, which keeps the defense guessing and gives the guy he's passing it to just an extra second of space. Even the most simple pass -- a little flip to an open
Wesley Johnson
on the wing -- is done with a necessary flair. He's not being fancy for the sake of it. It's nuanced, so that it gives his teammate a little more freedom on the catch. That's what can make a point guard great. He sets up his teammates to score. You know how people always said Nash inflated stats? I can see Rubio doing the same thing as he goes along for
Kevin Love
and
Derrick Williams
.
You hear all about "the vision" but he's next level with it. It's like watching a great midfielder in soccer seek out a perfect through-ball. Rubio's like Barcelona's Xavi -- he passes people open. They run on to the end of an on-time bounce pass and just find themselves open under the rim. Proof:
Via Hoopdata
, five of Rubio's six assists led to a basket at the rim. He creates points.
One thing about Rubio though is you have to wonder how teams will adapt to him being reluctant to scoring and shooting. He went 2-3 from the floor which included a nice free throw line jumper in the fourth quarter, but he clearly wanted to pass. He needs to watch so much
Rajon Rondo
it makes him sick. Rondo lacks a jumper, but can score 30 by getting to the paint and finishing. With teams fearing his passing and vision, Rubio should be afforded those lanes as well. And I think he can develop the jumper too. If he does, you're looking at one of the Western Conference's top point guards. Seriously.
(Snap take on the Wolves: I think this team could win 30 games. And yes, I realize the season doesn't have 82 games in it anymore. You can tell the difference Rick Adelman makes and once Williams figures out how to use all his talents and ability to score, the Wolves will be tough to stop.)
I know it's way early. It's one game. Teams will adjust. Nobody has had a chance to look at an advance scouting report on him or the Wolves yet. Rubio will have some bad games and people will wonder. You're reading this and saying, "Geez, did he have six assists or
sixty
assists?" That's the thing: The box score isn't a good way to judge Rubio. He'll have a lot of nights that are 1-4, four points and five assists. But he'll have had a large impact on the Minnesota offense. Hockey assists, opening space, loosening the defense -- the little things that a simple assist doesn't measure.
My point is he's capable of really great things. Monday's performance against the Thunder wasn't a fluke. He did it as the third point guard off the bench and eventually,
Luke Ridnour
will be benched or traded and the Wolves will be completely handed to Rubio.
And once that happens, Minnesota will be a must-watch team. Heck, they already are.