Posted by
Ben Golliver
.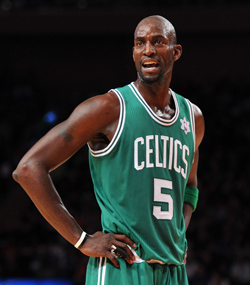 Boston
Celtics
forward
Kevin Garnett
choked
New York
Knicks
wing
Bill Walker
after a nationally-televised Christmas Day game.
He won't pay any price for it.
Ken Berger of CBSSports.com reports
that Garnett "will not face any disciplinary action" in relation to the altercation, which involved Garnett shoving Walker's throat after he missed a potentially game-tying buzzer-beater.
Punishment or no, at least Garnett had the decency to shake hands after the fact.
ESPNNY.com reports
that Garnett and Walker were able to make amends following their postgame altercation which ensued immediately after Walker challenged Garnett's potential game-tying basket in the game's final second.
"When I was leaving the arena I talked to him," Walker said on Monday. "It's no hard feelings or nothing like that. We're both competitors and wanted to win. Emotions run high when you're playing at that type of level."

As Walker was leaving the Garden, he saw Garnett heading toward the Celtics' bus. He approached Garnett to say that he had no hard feelings.

"We shook hands, I talked to him ... I chopped it up with him. I still respect those guys," said Walker, who played a little over one season with Garnett in Boston.
Kudos to Walker for being the bigger man. Garnett is a one-of-a-kind monster and his frustration level is going to be off the charts this season as the Celtics struggle to deal with injuries and aging. His emotions clearly got the better of him -- something that seems to be happening increasingly often in recent years -- and Walker's gesture serves to deflate some of the tension that is sure to continue brewing between the Atlantic Division's top-2 teams.
On the court, the Knicks served notice that they belong next to the Celtics in the division race. After the buzzer and, later, off the court, Walker showed Garnett that he is above cowering at petty intimidation tactics. New York wound up leaving with both the victory and their dignity.
Garnett leaves the scene lucky to not have cost himself some money or his team an important rotation player for Tuesday night's game showdown against the Miami
Heat
.