Posted by Royce Young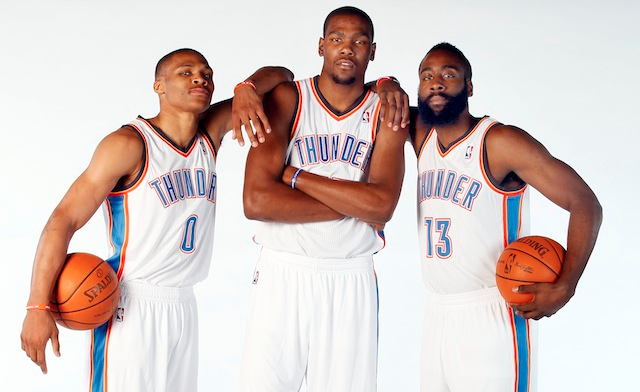 OKLAHOMA CITY -- Commissioner David Stern had himself a double-header Sunday, watching the
Heat
pound the
Mavericks
in Dallas and then making a short trip north to Oklahoma City to check out the
Thunder
.
His formal address to the media was the usual stuff. He talked about OKC's chances of getting an All-Star Game (the city needs more hotels), talked about the new collective bargaining agreement and how wonderful it is and talked about the NBA's business.
But after he wrapped, a couple of reporters chatted Stern up some more (or listened, if you're me).
Darnell Mayberry of The Oklahoman led the charge
asking Stern about how this new CBA that's supposedly designed to help small markets like Oklahoma City could be what tears the Thunder apart.
First, there's the new "Rose Rule," which allows -- actually scratch that --
forces
teams to pay a superstar more money if he meets certain criteria. That's already happened in Oklahoma City as
Kevin Durant
has qualified by being named to two All-NBA teams. Durant will make roughly $15 million more over the life of his extension and some $3 million more per year. A number that has actually put the Thunder
over
the cap.
The new luxury tax, which is more punitive than before, goes into action in two seasons. Right around the time the Thunder will have potentially locked up
Russell Westbrook
for big money along with needing to re-sign
James Harden
and
Serge Ibaka
. Plus, if Westbrook makes another All-NBA team, he'll qualify for the Rose extension, which would hurt the Thunder even more. So that's where the Thunder are at right now -- needing Russell Westbrook to NOT make an All-NBA team.
Stern disagrees with the idea the harsher luxury tax hurts small markets like the Thunder though.
"The idea that the luxury tax hurts small markets is ludicrous," he said. "It may impact a small market that's a great team and has to raise its payroll. But at the bottom, it's designed to eliminate the ability of teams to use their economic resources to distort competition"
He's right. Because that's a blanket statement. It doesn't hurt all small markets. But specifically applied to this Thunder team and its current roster structure, it absolutely does. Stern put it this way though: If you're good enough to have to be forced with making the decision to "go for it," as he put it, that's a good thing. At least that's the league's perspective.
And then he dropped this bombshell:
"People are saying to Miami, 'Well, you're going to have a decision to make with respect to one of your big three.' And they may say the same thing to Oklahoma City, and that's a good thing. That means you've arrived and you're out there being competitive."
So David Stern thinks it would be a good thing if the Thunder are forced to give up either Westbrook, Harden or Ibaka because they can't pay to keep them all. The way Stern put it is that the new CBA doesn't just share more revenue, but shares more talent. He sees it as "player sharing."
A small market team like the Thunder, who have become the poster child for small market viability, could potentially be punished for their slick management and wise draft choices. Stern sees that as a good thing. I get his point -- if you're having to pay players lots of money that means you're doing something right. But at the same time, Thunder general manager Sam Presti has always preached on "sustainable success," which this new CBA makes a bit difficult to accomplish. You can have Durant plus either Westbrook or Harden. But not all three and definitely not all three plus Serge Ibaka. Something about that just doesn't seem right to me.
I wrote about this over the summer
when the idea of a hard cap was floated. Build a team like Oklahoma City using the "Thunder model," as so many people like to call it, and you may be breaking it apart in just a few seasons. The irony here is that Presti might've done too
good
of a job assembling his team.
The idea with the new tax is that teams won't be willing to bust into it, large or small. Of course Oklahoma City can just choose to pay the harsh tax penalty. But are they really going to do that? Stern seemed extremely confident that not many would.
"They could, but they won't," he said. "There are going to be very few circumstances where someone is going to go $20 million over to pay $65 million in total unless they're sure this is their time and they're going for it once."
Basically Stern is banking on big markets shying away from paying the harsher tax. He could be right as it's possible the
Lakers
dealt
Lamar Odom
for virtually nothing to get away from paying so much of it. The Blazers, who once had a $57 million tax bill,
won't be going into that territory again
. But let's face reality: Stern talked about teams choosing to pay the tax to "go for it." Big market teams like the Lakers and
Knicks
will have the chance to "go for it" a lot more than the
Spurs
,
Grizzlies
or Thunder because they have a bigger slice of the pie. If they swing and miss, oh well, they can try again later.
No bother to Stern though. He's sure of this new system. Positive of it, in fact.
"You'll see. It's beauty," he said. "It's all going to happen and then we'll look back at it rather than prejudge it. I happen to think it's going to be good for all of us, and it's going to hit small market and large market teams alike."
Or destroy one like the Thunder. But whatever.