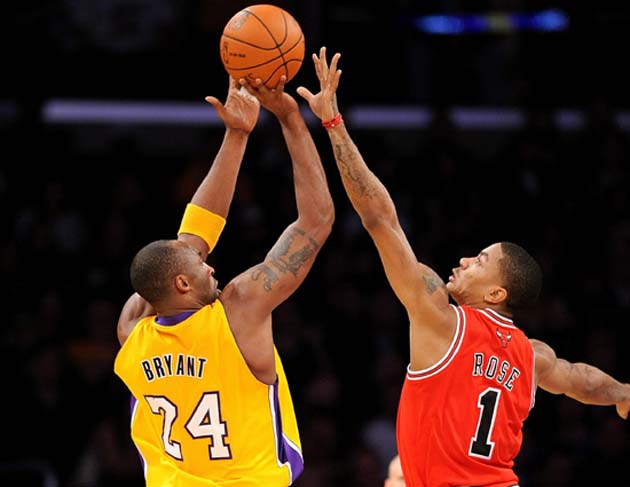 by Matt Moore
GAMES. Sweet merciful games.
The wait is over. Ol' Saint Nick has shimmied down the Christmas tree and that means the NBA has returned to our lives, kicking off with five games Sunday and a righteous quintuple it is. Boston tests an unsteady bench against the new-look
Knicks
(same old Knicks, except for a good rookie and one big exception down low). The
Heat
must watch the
Mavericks
' banner raised and then go toe-to-toe with the team that ousted them in the Finals. The
Lakers
will try to prove that
Lamar Odom
wasn't the whole team,
Kobe Bryant
's wrist is fine, and they are still the most dominant franchise in the West against the MVP Derek Rose and the league's best defense. The
Magic
try to pretend everything's fine while polishing silverware on the Titanic against a Western Conference favorite, the Oklahoma City
Thunder
. And finally Lob City premiers against the Golden State
Warriors
, who are looking for something new under Mark Jackson.
It's going to be fun. So on the night before Christmas, we're hear to stuff the stockings with what you need to know for each game. Here are 12 Things of NBA Christmas.
1. "Later on we'll conspire, while we lay by the fire..."
The Heat failed. And everyone pointed and laughed. After all the pomp and circumstance, the unbelievably arrogant approach to their formation and celebration thereof, followed by a somehow more outrageous backlash against three basketball players who decided to play for the same team through free agency, the Heat were left broken and tarnished by a Mavericks team which lacked neither star power nor confidence. Not that you'd know it by the storylines drawn out. Still, the Heat took a nasty fall. But during the summer and all the way through the lockout, we hardly heard a thing from them. A few appearances from
Dwyane Wade
. Some exhibition appearances by
LeBron James
.
Chris Bosh
went to ESPN for a day. That was it. Nothing outrageous, no outlandish proclamations or denials of the fact they had their tails kicked. Now they return to the scene of the crime, where everything started to turn for them on a warm June night in Dallas, when the series shifted on the back of their inability to stop
Dirk Nowitzki
.
When the Heat stumbled last season, the idea was that James, Wade, and Bosh needed more time together, and with their teammates. That chemistry couldn't be built in a day, and that even if they struggled early, it would come. Yet even in advancing to the Finals, there were so many moments where the Heat never looked like they truly belonged together, like they were thrust together without a core concept. We're still waiting for a Heat team that, for lack of a better term, makes sense. A mega-scoring, high-rebound-rate, gamble-defending shooting guard. A prolific do-it-all and rarely do enough, lock-down defender, brilliant vision in a Hummer-like body small forward. And a whisper-thin, mid-range joltin', defensively adequate power forward. It's just an odd combination. They had their trial season, and they fell only two games short of a title. But still short. This is their chance to show the world they've learned from their mistakes and that it was a rare combination of factors that led to their demise against the Mavs. With
Tyson Chandler
and J.J. Barea gone, this isn't the same Dallas team that had the formula to stop what no one else could. The Heat can make a statement Sunday.
But we've heard that before.
2. "He's making a list and checking it twice, gonna find out who's naughty and nice..."
All this Lakers drama. You know what's lost in the talk of the Odom trade, of Kobe's wrist, of the
Chris Paul
trade that wasn't (and should never have been)?
Derrick Rose
is coming to Los Angeles and he's bringing all the fury a dissed MVP can bring. None of us have him repeating. Very few experts do. But Rose is consistently the most devastating single player in professional basketball and he's going up against a team still starting
Derek Fisher
, with
Steve Blake
backing him up. Blake defended Chris Paul admirably in two preseason games against the
Clippers
. But Rose's explosiveness is the stuff of legend. Plus, once he gets past his primary defender, there will be no
Andrew Bynum
, serving five games for being naughty in the worst (clubbing J.J. Barae in last year's playoffs in an all-time disgusting move). Rose instead will face
Pau Gasol
and
Josh McRoberts
at the rim. McBob is a good player and will pay well or the Lakers. But he ain't Bynum.
Rose sees no reason why he can't repeat as MVP. And after an offseason hearing about everyone else and how LeBron left coal in his ECF stocking by shutting him down, Rose likely has some motivation. I'm reminded of a line from "The Dark Knight." "Turn it off. He doesn't want to talk to us. God help whoever he does want to talk to."
3. "Deck the halls with boughs of holly, fa la la la LOB, la la la la"
Tis the season to be jolly in ... Clipper-land? When has that ever been the case? But Sunday means the debut
of Lob City
(pause for collective groan for people who quickly tire of memes and/or Lakers fans) against the Warriors. Is the pressure too high? Will they be trolled by Yuletide carols? I don't know what that means but it fits with the song; roll with it. The Clippers are facing a team that has been one of the worst defensively over the past decade or so. Mark Jackson is furiously trying to instill a new attitude, but this isn't a great place to start.
Kwame Brown
is a better interior defender than
Andris Biedrins
, but isn't good enough to defend two places at once. With
Stephen Curry
on a bum kneee, the Oop Outlet could be open on Christmas Day. All eyes will be on the Clippers to see if the newest superteam will live up to the billing or disappoint like so many others have. No pressure, there, Blake.
4. "I'll have a Blue Christmas without you..."
The Lakers need Andrew Bnyum. This is the first time you can really say that. They won the title in 2009 without him. They could have won the title in 2010 without him. He was the only thing really keeping them afloat for much of the last half of 2011. And now with Kobe Bryant injured for their opener vs. Chicago, Bynum's injury is even more in focus. It's his overwhelming presence on both ends that makes the Lakers more nasty and tougher to stop. Kobe Bryant can pull this game out, even with a torn ligament in his wrist. He's done it before, he'll do it again. But the Lakers are going to be sorely missing the young stud that holds the key to their future ... one way or another.
5. "All of the other reindeer, used to laugh and call him names, (LIKE PINOCHIO!)..."
I know, I know, I should have spit that one out for the Clippers. But this is also can refer to the Knicks, who for years have been dismissed first as a team terrible in every phase but recently because of their defense. But then one foggy (I don't know if it'll be foggy Saturday night in New York or not), Christmas Eve, Mike D'Antoni came to say, "Tyson Chandler, with your defense so bright, won't you dominate inside against a
Celtics
team which is paper thin inside tonight?"
The questions are going to continue about the Knicks. Chandler has been with the Knicks for a whole ... week. It may not work at all. But he's got a chance to help redefine what defense for the Knicks means, alongside Mike Woodson. And if things go right, the Knicks could go down in history. OK, let's just start with beating the Celtics in the opener.
6. "Please come home for Christmas."
So say Magic fans to
Dwight Howard
.
7. "And so this is Christmas, I hope you have fun, the near and the dear one, the old and the young"
The Celtics still have the talent, right? I mean, this is a league where older teams win. Dominate, even. Most of the champions are veteran groups. Yes, the Celtics are ... old. But
Rajon Rondo
's not.
Brandon Bass
isn't. They have some legs left. And it's not as many months. So on Sunday against the Knicks, it's not like the Celtics are going to be able to compete with the Knicks. In fact, in most of their games against the Knicks under Mike D'Antoni, the Celtics have used the same tactic employed by the
Spurs
against the
Suns
for years: They ran them out of the building. The Celtics actually are a great fast-break team, with Allen sprinting to the corner, Rondo running the break and Pierce a brilliant cherry picker.
So even if they're old, this is still likely a better overall team than the Knicks. But this first game could be relevant in showing us how big a hill both teams have to climb, and maybe who'll take early control of the division.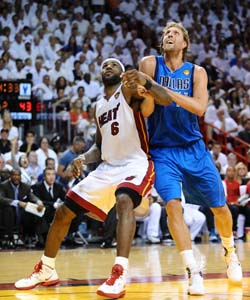 8. "The fire is slowly dying, and my dear, we're still, goodbye-ing. But as long as you love me so, let it snow..."
The Mavericks are going to fade off into the sunset. This is not a young team. Dirk Nowitkzi's game and condition should allow him to play until he's, oh, 60. But think about Petyon Manning. How quickly did this guy, who should have played at a high level into his 40s, see his career change? Granted, different sort of contact sport and all, my point is just that we never know when things change. And if Dirk does suffer any sort of decline because of age, the Mavericks dip too.
Jason Kidd
is nearly middle-aged,
Jason Terry
has a lot of frequent flier miles on him and Lamar Odom's no spring chicken. But on Sunday, they get to watch the banner raised in American Airlines, legitimizing Dirk's career and establishing the franchise as world champs. Yeah, it's getting cold, but the world will still love this team for their run last year and they've got enough in them to make another crack at it. Let it snow.
9. "Dashing through the snow, in a one-horse open sleigh."
Are the
Bulls
going to be a one-horse open sleigh, or do they have some help? Will Rip Hamilton help the Bulls space the floor against the Lakers? Can Carlos Bozer score on Josh McRoberts after struggling against McBob's Indiana
Pacers
last season? Can the Bulls score consistently? We know the defense will be there, but the Bulls wanted a scoring upgrade this season. The Lakers, even without Bynum and Odom, are going to be a great test of how far they've come. The Lakers will score. How much the Bulls score will determine if they start the season in a rush or a slide.
10. "Me, I want a hula-hoop..."
In this scenario, Mark Jackson is Alvin and the hula-hoop is a healthy-enough-to-play Stephen Curry. And a defense. And some consistent shooting. And smart basketball. It's a big hula-hoop.
11. "All I want for Christmas is you..."
Blake Griffin
got the best Christmas gift possible. The Dunk-o-meter may get broken this season. The Clippers get to test out their new toy Sunday night. Chris Paul will make Blake Griffin the best player he can be. And that is terrifying for the rest of the league.
12. "And the boys of the NYPD choir were singing "Galway Bay," and the bells were ringing out for Christmas Day."
That's from a song about crushed dreams but sticking together because you've built your lives around one another. And after a vicious lockout that divided players, owners, fans and media, games are back. We're stuck with each other. Let's tip it off. Happy Holidays.