Posted by Eye on Basketball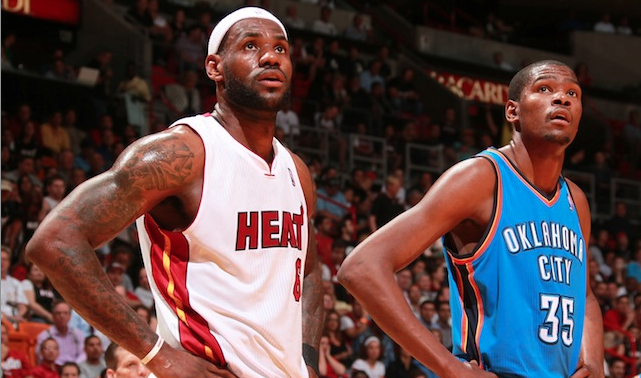 The season is finally, mercifully, just around the corner. In two days the 2011-2012 season kicks off. For all the lockout, legality, and lost games, there will be basketball. But we find a dramatically different NBA than we left. The
Lakers
are in disarray, the
Celtics
are fading, the
Clippers
are a potential powerhouse, and the
Raptors
... okay, the Raptors are still terrible.
So how is this all going to work out? We bring you our predictions for the 2011-2012 season, along with some random predictions on how things will go according to our crystal ball. (Note: We got our crystal ball at a flea market in southern Missouri. It also says "Get 'Er Done" on it.)
Three Random Predictions from Eye on Basketball
Royce Young:
1. Monta Ellis will be the biggest name traded this season
. You can probably read between the lines there. That means
Dwight Howard
isn't getting dealt. The
Magic
are going to spend the first two months of the season trying to convince Howard to go to free agency, mainly because there isn't a suitable package on the market at this point. The
Warriors
though have been dangling Ellis on the market for a while, coming close to trading him for
Andre Iguodala
last season. They want to turn the backcourt over to
Stephen Curry
entirely and moving Ellis is what needs to happen to both Curry and the organization's development.
2. Flip Saunders will be the first coach fired
. The
Wizards
are sort of a mess.
John Wall
has a ton of talent and young guys like
Nick Young
,
JaVale McGee
and
Jordan Crawford
have potential. But they don't appear to be moving forward as a team. Saunders is a really good coach and him being fired wouldn't be an indictment on his ability to coach. Sometimes young players just need a new direction, a new voice to listen to. You can't risk stunting development with young players and if the Wizards start slow and more importantly, sloppy, Saunders will get the axe.
3. Kevin Durant will win a third straight scoring title
. Only six players in NBA history have ever won three consecutive scoring titles (Michael Jordan, George Gervin, Bob McAdoo, Wilt Chamberlain, Neil Johnston, George Mikan). So it's not some small task. I could see Durant's scoring decrease a bit because of
James Harden
's emergence as a legit third scorer. That doesn't mean Durant won't average 27 or 28 a game, but I don't see him bursting into 33 or 34 points per game range. He'll take another scoring title simply because he just can't help it. Dude could score 27 a game if he was in a full body cast.
Ben Golliver:
1. The Lakers will land Dwight Howard
. The Lakers have dealt from a position of power for as long as anyone can remember, but the last month's insanity has now pushed them into desperation mode. This group, even if perfectly healthy, can't win a title this year and there are so many dead weight contracts a handful of amnesty clauses still wouldn't be enough. Put that together with
Kobe Bryant
's increasing age and the Lakers have no choice but to swing for the fences and deal every last tradable asset for Dwight Howard. Magic GM Otis Smith has been taking his time, as he should, but there's so much writing on this wall it looks like a New York City subway car covered in graffiti. Gasol, Bynum and whatever else L.A. can muster will head East.
2. We'll have a tank-off for the ages
. Given the weirdness of the shortened season and the absolutely loaded 2012 NBA Draft, there's never been a better time for below-average teams to write off a season in hopes of landing a top draft pick. The Charlotte
Bobcats
, Toronto Raptors and Cleveland
Cavaliers
are your top-3 contenders for tankapalooza, but the Washington Wizards, New Orleans
Hornets
, Detroit
Pistons
and New Jersey
Nets
are one injury away from being in combustion mode too. The smart money is on the Bobcats but brace yourself for some truly hideous basketball.
3. Erik Spoelstra will win Coach of the Year
. Miami enters the season on what feels like a perfect storm: they key players are in shape, healthy, motivated, focused and extremely, extremely talented. Importantly, they bring with them a mindset of "We've been through the worst of it and we know what to expect now" and also realize that the only team that stood between them and the 2011 championship, the Dallas
Mavericks
, lost its most important defensive player in
Tyson Chandler
. Add up all of those factors and we're looking at the possibility of Miami making a mockery of the regular season, running off lengthy winning streaks and only slowing down if they get to the point where homecourt advantage is already wrapped up. A 50-win season is well within reach and, if that benchmark is met, look for Spoelstra, who dealt with rumors about his job last season, getting tapped for Coach of the Year honors.
Matt Moore:
1. The Lakers will figure something out
. This franchise does not rebuild. It reloads. And with the assets they have and under the urgent leadership of the younger Buss, something will go down. Maybe it's Dwight Howard, maybe it's a solution we can't see yet that comes out of nowhere. But the Lakers have been a dominant franchise since the inception of the league. They will not go down quietly, not with Kobe Bryant facing the end of his career. Something will shake out for the Purple and Gold.
2. One of the superteams will self-destruct
. It's not that superteams are inherently flawed. On the contrary, they have an obscenely high probability of success. But they are not 100 percent proof. And the very problems that can help more complete team efforts topple the superteams (chemistry, selfless play, ball movement, defense) will spell a blowup of one of the juggernauts. Maybe it's the
Heat
who simply find that they can win a ton of games but never be truly great with the 1-2-3 of
LeBron James
,
Dwyane Wade
, and
Chris Bosh
. Maybe it's the
Knicks
who find that they truly do need a creator to run an offense geared around front-court scoring. Maybe it's the Clippers and Lob City turns out to be the Wizards' Oz. Or maybe it will be the Nets who find that
Deron Williams
and Dwight Howard aren't enough with the horrible roster they have around them should they land Howard. But one team will find that their experiment with overwhelming firepower was a mistake.
3. Josh Smith or Andre Iguodala will be with new teams by year's end
. I'm a believer that situations that reveal themselves as untenable will not hold. And both of those players have been on the trade block for far too long. Smith has wanted off the
Hawks
, the Sixers have wanted to move Iguodala for a scoring punch for multiple seasons. It's simply unlikely that both teams will elect to stay put the whole year through, especially since both teams are in direct competition for the mid-to-late playoff spots in the East. Where those two end up could have significant impacts on the playoffs.
2011-12 NBA Season Predictions
Prediction
Ken Berger

Matt Moore

Ben Golliver

Royce Young
Atlantic Division Winner
Central Division Winner
Southeast Division Winner
Southwest Division Winner
Northwest Division Winner
Pacific Division Winner
Eastern Conference Winners

Bulls over Heat

Heat over Bulls

Heat over Bulls

Heat over Bulls
Western Conference Winners

Thunder over Mavericks

Thunder over Lakers

Thunder over Clippers

Thunder over Grizzlies
Finals Winner
Most Valuable Player

Dwyane Wade
Heat, SG

Kevin Durant
Thunder, SF

LeBron James
Heat, SF

Blake Griffin
Clippers, PF
Rookie of the Year

Kyrie Irving
Cavaliers, PG

Ricky Rubio
Timberwolves, PG

Ricky Rubio
Timberwolves, PG

Derrick Williams
Timberwolves, PF
Predictions: 2011-12 Eastern Conference Playoff Teams
Seed
Ken Berger

Matt Moore

Ben Golliver

Royce Young
No. 1
No. 2
No. 3
No. 4
No. 5
No. 6
No. 7
No. 8
Predictions: 2011-12 Western Conference Playoff Teams
Seed
Ken Berger

Matt Moore

Ben Golliver

Royce Young
No. 1
No. 2
No. 3
No. 4
No. 5
No. 6
No. 7
No. 8