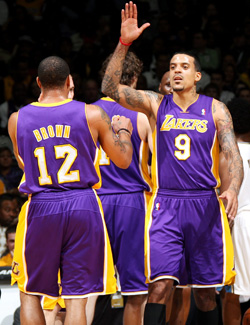 Posted by Royce Young
Matt Barnes
doesn't get along with a lot of people. It's kind of been his thing in the NBA during his eight NBA seasons. He's an enforcer, a goon, a tough-guy -- whatever you want to call him. He tells it like it is and then takes that act on to the court. Remember,
he punched a guy in a pro-am game
this summer.
In the
Lakers
second preseason game he gave
Blake Griffin
a
nice little shove for apparently no reason
and did his fair share of talking. Why? Because he's not a fan of Lob City.
Via ESPN LA
:
"They have a lot of reason to be excited, but all the celebration after dunks and all that kind of stuff, I mean, I just kind of think it looks amazing and it makes 'SportsCenter,' but I mean, let's just play basketball ... They act like they won the dunk contest after every dunk," Barnes said. "So, as players, people aren't going to tolerate that."
I think Barnes has things confused. They don't act like they won a dunk contest, it just looks like it because Lob City's dunks are kind of ridiculous. He probably just forgot what all that looks like playing for the Lakers where the guy with the most hops on the roster is probably some D-Leaguer that's getting waived this week.
Pau Gasol
was frustrated with the
Clippers
as well and you're going to love his reason why.
"I think we were upset that they were flopping a little too much," he said.
That's right. Pau Gasol was unhappy with someone flopping. It really is a new Los Angeles. Barnes took the baton and added onto that, specifically about Griffin.
"He's an amazing athlete and an amazing player but he does flop a lot," Barnes said. "You're too big and too strong to be doing that. Then he wants to talk.
"... He's a special athlete. Probably one of the best athletes I've ever seen, but all the flopping is unnecessary. That's the way he plays and it works too, they call it, so you can't be mad at him for it ... I looked at [the replay] and yeah, my arms did get extended but [Griffin] flailed everywhere like I threw him to half-court."
Here's the thing: Barnes is right. Blake Griffin has a horrible habit of exaggerating fouls. If he gets a small pop in the nose, he whips his head back like he just got drilled by Manny Pacquiao. If he gets pushed, he throws his arms out like he's belly-flopping. I mean, remember this? It made Andre Miller look like Brian Urlacher.
Thing is, Griffin has been told his whole life by his parents, coaches, friends and whoever else that everyone on the court is out to get him. He's been told that they're playing intentionally rough with him, that the refs aren't being fair because he's bigger and stronger. So it's just something he thinks. Hence the exaggerating. It's annoying, but it's just how it is.
The moral of the story is, the Lakers aren't really digging this whole Lob City thing. They've tried to be nice about it, but after all the woofing they likely heard over two preseason wins, they're sick of it. They're the team with the banners in Staples, not the Clips.
And just so you know, the next meeting between the two teams is Jan. 14. Expect some fireworks.