Posted by
Ben Golliver
.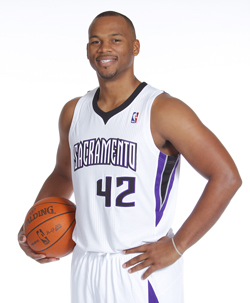 On, then off, and now back on again. One of the NBA's scariest stories in recent memory reportedly just found a happy ending.
The Sacramento
Kings
have reportedly agreed to sign center Chuck Hayes to a 4-year contract less than one week after a previous deal was voided when the team announced he failed his physical.
SI.com
and
Yahoo Sports
report the new deal is worth $22 million over four years.
The Kings confirmed later Thursday night that the team had "an agreement in principle" with Hayes on "a multi-year contract" but did not disclose the details.
Last week, the Kings and Hayes agreed to terms on a 4-year deal reportedly worth $21 million.
On Monday
, Kings president Geoff Petrie announced that "in one of the most heartbreaking moments" of his career he had to void the deal because Hayes could not get medical clearance. Reports in Sacramento indicated that a heart condition was the cause of the deal snag.
On Thursday morning,
Ken Berger of CBSSports.com reported
that Hayes had received clearance on his heart from the world-renowned Cleveland Clinic. That news paved the way for his agent to re-open free agency talks. The Kings, who were unable to re-sign center
Samuel Dalembert
, were obviously still interested in Hayes, who they had originally managed to pry away from the Houston
Rockets
.
Hayes, 28, is a 6-year NBA veteran known as an undersized big man with a major motor. His career averages: 4.4 points and 5.8 rebounds in 424 NBA games.
Hayes will join a Sacramento frontline that also includes
DeMarcus Cousins
,
Jason Thompson
,
Donte Greene
, and
J.J. Hickson
.