By Matt Moore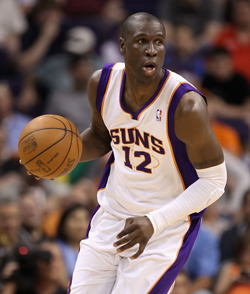 The Phoenix
Suns
waived guard/forward
Mickael Pietrus
Thursday. They did not exercise their amnesty clause, instead opting to simply swallow the $5.3 million remaining salary on the wing acquired last season from Orlando.
ESPN reports
that the Suns and Pietrus agreed to a buyout on the remainder of his contract which will allow him to become a free agent once he clears waivers. Pietrus is expected to attempt to join a contender in pursuit of a championship.
The 29-year old French shooter hit 34 percent from long range in Phoenix last season and is a career 36 percent 3-point shooter. The Suns rescinded an offer to Pietrus following examination of his knee which caused him to miss significant time last season. The usual suspect list of championship contender teams should be in pursuit, Chicago, Miami, New York, Boston, and Los Angeles, depending on how much Pietrus wants.
His future in Phoenix was dim with the youth movement the Suns are slowly working towards and due to his lack of effort on both ends at times. Surprisingly, the gunner did not fit well into Alvin Gentry's run-and-gun system.
Pietrus averaged 7.4 points and 2.4 rebounds per game last season for the Suns.