Posted by
Ben Golliver
.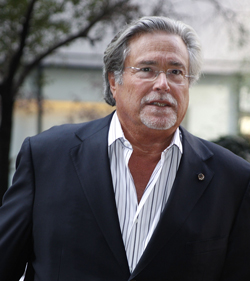 After drawing a $500,000 fine for publicly disassociating himself from hardline owners who were holding up the 2011-2012 NBA season, Miami
Heat
owner Micky Arison actually voted against the league's new collective bargaining agreement.
The Associated Press reports
that Arison revealed his decision to cast a "protest vote" to reporters on Thursday.
Arison says it was "a protest vote" primarily in response to the way revenue-sharing components of the deal will be structured. He is the second owner to reveal that he voted against the CBA, joining Dallas' Mark Cuban.

In all, five teams voted against the CBA. Arison would not name the other owners who voted no.

Arison declined to say if he would have cast the "no" vote if the CBA wasn't already assured of passage. Enough votes to pass were already secured by the time Miami made its selection.
The Sun-Sentinel reports
that the sticking point for Arison was the league's revenue sharing program, which will require a drastically larger contribution from him.
"While I did everything I could behind the scenes and some not-so-behind-the-scenes to get playing by Christmas," Arison said, "when you come down to it, financially, it's important to understand that revenue sharing and the CBA together, it's a tough financial deal for us, particularly the revenue-sharing piece of it, the way it's structured.

"For us to have to pay revenue sharing to larger-market teams was disturbing, and we will. And so that was a kind of protest vote on our part."
Back in October,
Arison wrote to an angry fan on Twitter
that they were "barking at the wrong owner" when it came to complaining over the slow development of labor talks. That comment
drew a $500,000 fine
from NBA commissioner David Stern because it violated a gag order he imposed on the league's owners during the lockout.
"Just to make it clear no one is happier to see the NBA starting on Sunday than me,"
Arison tweeted on Thursday
. "Big things are coming."
The Heat's owner was
recently ranked No. 75 on the Forbes 400 richest Americans list
with an estimated net worth of $4.2 billion.