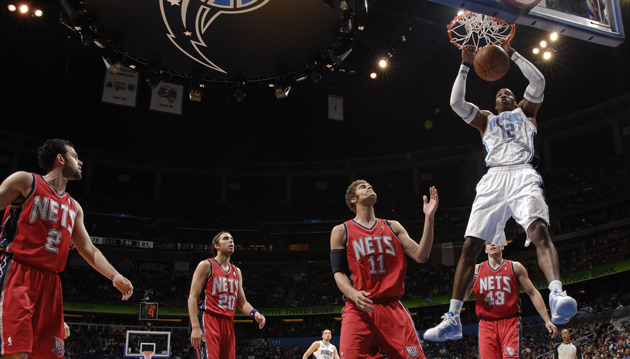 By Matt Moore
The New Jersey
Nets
announced Thursday that center
Brook Lopez
has a broken foot and will undergo surgery
. His listed recovery time is 4-6 weeks, but the injury is also similar to the one that sidelined Mavs' guard
Roddy Beaubois
for months and which SI.com says doctors have said can take up to 4 months to heal.
So no, this is not good news.
But as bad as it is for Lopez, it also has huge ramifications for the Nets and their pursuit of
Dwight Howard
. Lopez was the centerpiece of any trade to Orlando, giving the
Magic
a young center to at least take the sting off losing the league's best big man. At 4-6 weeks, there's time for Lopez to recover and get back on the floor to show himself still worth the Magic's investment (I'm sure that's No.1 on his list of priorities). But that assumes his surgery goes perfectly, his recovery is without flaw, and that his return has no issues.
At that point, the Nets may be one of the worst teams in the league. Howard will be staring at going to a team he'd have to claw out of the cellar alongside
Deron Williams
with, after having had to likely give up even more assets to account for the instability of Lopez' situation. While Howard would be looking at the big picture with regards to playing in Brooklyn the next six seasons, these superstars want to win now, every year, and don't want to risk missing the playoffs even a single season. The Magic would be then trading for a seven-foot center with a foot injury, which hasn't gone well in the history of the NBA. That damages the Nets' leverage in the package they'd have to give up, which would mean Howard would be giving his commitment to a team with nearly nothing on roster outside of Deron Williams.
Which isn't wholly different from what
Carmelo Anthony
did. But the
Knicks
were at least in playoff position at the time of the trade. Without Lopez, we see more of
Johan Petro
. The Nets' frontcourt, even with productive big man
Kris Humphries
, is going to be a near-disaster. Deron Williams is one of the top five point guards in the league, but there are limits to what even he can do.
Lopez meanwhile is faced with the balance of wanting to compete and do his job, wanting to get back on the floor as quickly as possible, and leveraging that against his long-term health. Throw in how the Nets have treated him for the past year, both in terms of his relationship with Avery Johnson and in his inecessant involvement in trade rumors, and Lopez will be rushing back from a serious injury to help a team that is clearly not invested in his future. Maybe he pushes himself just to get out of the situation, but it's not an unpleasant one, and that's before you deal with the mental and physical damage from undergoing this kind of injury process.
The Nets still have a chance at pulling off the trade which would set them up long-term in the future. But after making a huge gamble in trading for Deron Williams last season and surrendering nearly half their talent base, the Lopez injury makes the odds even worse. There's really only two ways this works out. The Nets pull of a miracle trade for Dwight Howard because he simply wants to play in Brooklyn that much, or they lose everything.
Meanwhile,
Andrew Bynum
looked spectacular in preseason play Wednesday night.